Congressional candidate Whitmer says it's time to emerge from 'Socialist Security'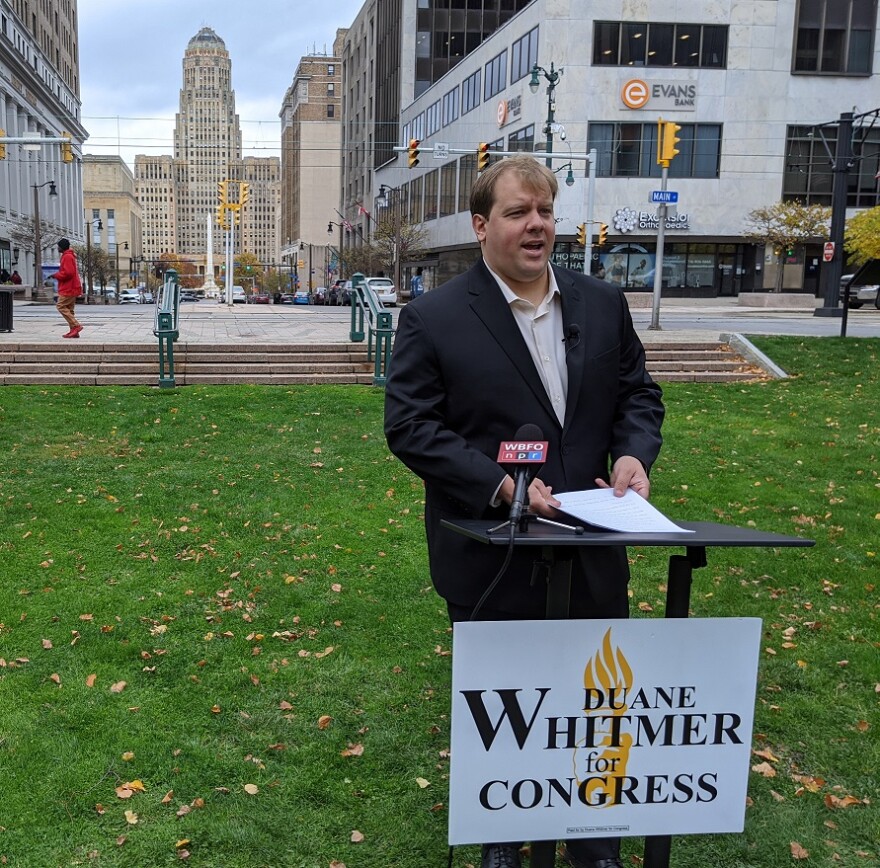 One of the candidates for New York's 27th Congressional District says Social Security has proven to be a government slush fund and a generational Ponzi scheme. Libertarian candidate Duane Whitmer presented his proposed reform in downtown Buffalo.
Whitmer, who is challenging Republican incumbent Chris Jacobs and Democratic challenger Nate McMurray, says the program enacted in 1935 takes a significant portion of workers' paychecks but then is spent by a government already trillions of dollars in debt.
He even renamed Social Security, calling it "Socialist Security."
"Between Social Security and Medicare - another failed progressive program, whose main accomplishment is the overmedication of our grandparents - the American worker now pays an astonishing 14.2 percent of his wages to the so-called payroll tax," Whitmer said. "It's another Orwellian turn designed to hide what the government is doing. It's stealing your money, making you more poor and dependent on slimy politicians."
Appearing in Lafayette Square during the noon hour Tuesday, Whitmer quoted Boston University economics professor Laurence Kotlikoff, also a critic of Social Security: "These entitlement programs were never financed as a pay-as-you-go basis in which each generation pays for what it gets. Instead, they were financed as a take-as-you-go basis, with retirees collecting collectively, expropriating their children, while promising them their turn at doing the same. Our Hydra-headed Ponzi schemes have failed spectacularly."
Whitmer says the money deducted from paychecks for Social Security comes before federal, state and other taxes. He also says government regulations are a form of tax. His proposed reform would let workers opt out of the program.
"Young workers just entering the Ponzi scheme should be allowed to opt out and receive an immediate permanent raise of 14.2 percent for the next 50 years," he said. "Freedom of choice should not be limited to younger workers. We also need to construct a path for longtime workers to opt out as well, in exchange for a cash buyout they agree to."
But how to pay for it? His answer is through large-scale spending cuts to numerous "expensive" federal departments including Defense, Housing and Urban Development, Energy, Education, Agriculture and Commerce. He also proposes selling off numerous federal assets and properties.
"I mean, I don't want to get rid of Yellowstone, don't get me wrong," he said. "But the federal government has a lot of holdings that are providing no benefit right now."