Blocher Homes residents protest assisted living facility's closing
Some were in their 90s. The oldest was 104. Many needed the assistance of a walker or a wheelchair.
That didn't stop residents of Blocher Homes from making sure their voices were heard in a protest Monday over the proposed sale and closing of their Williamsville assisted living facility.
"We just felt it was extremely important," said 75-year-old Syd MacDougall, who sat in her wheelchair and held a picket sign. "I mean, we're frail. We walked down a long driveway to come out because we really believe."
Residents, joined by employees and nearby neighbors of the facility, gathered on its front lawn along Evans Street holding signs and chanting as part of the ongoing pushback against plans to close the 57-bedroom facility.
Blocher Homes' not-for-profit parent, Beechwood Continuing Care, announced plans in July to sell the facility to People Inc., which would convert and expand it into housing for adults with mixed income and disabilities. The proposed project would cost about $29 million and is pending approval from both the local village and New York state.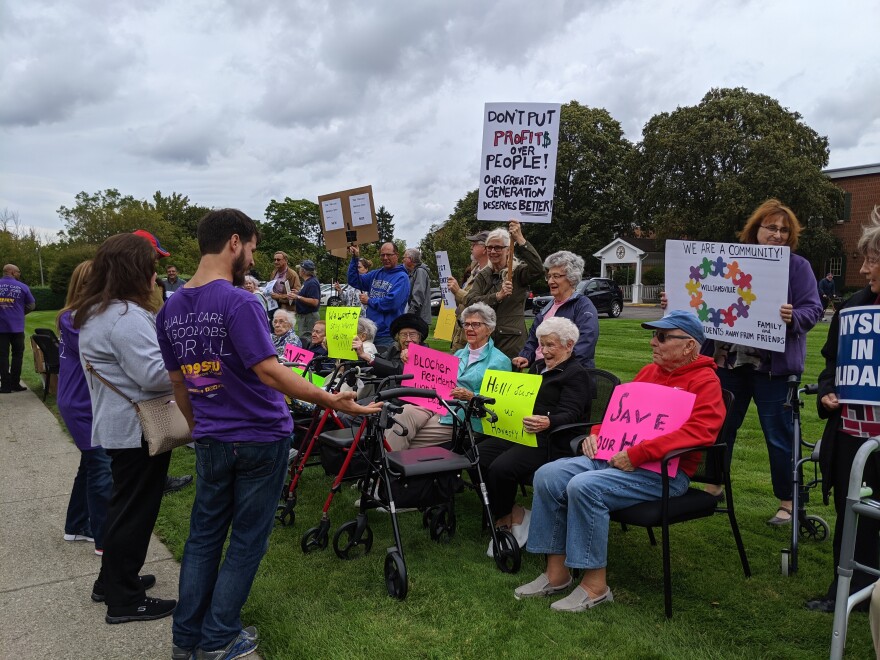 Beechwood officials have cited financial loss as the reason for the sale and closing. Blocher Homes' IRS Form 990 from 2017 shows it had a loss on its $3.18 million in revenue.
"We're very happy here and we'll be very disappointed if we have to move," said Maureen Corr, 86, who has lived at Blocher Homes since January. "It's small, it's intimate, it's only two floors so we get to know everybody. People aren't looking forward to the move, believe me."
While many would like to save the facility and remain there for the rest of their lives just as they planned, others are resigned to the fact that the closing is inevitable. Instead, they're demanding clearer answers on what comes next.
Beechwood officials originally indicated Blocher Homes' roughly 50 residents would be placed in yet-to-be-created assisted living space at Beechwood's larger campus in Getzville, according to residents. However, the plan is now for residents to be placed in existing skilled nursing space at the Getzville campus.
Beechwood officials have said Blocher Homes residents won't have to pay more for the increased level of care that comes with skilled nursing.
The uncertainty of it all has "unnerved" residents, according to MacDougall, who is Blocher Homes' youngest resident.
"It's not knowing where you're going and just wanting straight answers and not receiving them," she said. "(Being) told that we're going into a different level of care that we don't think we need, that's big."
"I have seen people, they're nervous wrecks," she added, "and I worry tremendously about their health and I worry about my own health. I came here after a stroke and I don't want another stroke."
Blocher Homes employees say they also feel uncertainty.
1199SEIU, which represents nearly 12,000 health care workers across Western New York and has 18 members at Blocher Homes, joined Monday's protest, holding signs that said, "Protect our residents, protect our jobs."
Marshall Bertram, an administrative organizer with the union, said Beechwood officials have not told workers how many of their jobs will be transferred to the Getzville campus, and have refused requests to discuss the closing.
"Our demand has never been to stop the sale," Bertram said. "Our demand has simply been we want to sit down, we want to negotiate over what's going to happen with our workers and we want to make sure they're assured jobs with good benefits … in the future."
Beechwood officials declined an interview Monday, but President and CEO Daniel O'Neil provided a written statement saying Beechwood has already assured 1199SEIU it will bargain once the sale is official.
O'Neil added that Beechwood has shared and will continue to share the most current information available with residents and workers, noting the project will likely not receive approval until at least the spring. The Williamsville Planning Board looked at the project again Monday night.
"Blocher Homes has always provided compassionate, high quality resident care and will continue to do so through this transition — always with an emphasis on quality of life and dignity," O'Neil said in his statement.
Blocher Homes was originally opened in 1906 by John and Elizabeth Neff Blocher. The facility affiliated with Beechwood in 1977 and now shares boards of directors, human resource departments and other resources with the not-for-profit.
92-year-old Arlene Bolton said she and other residents enjoy the attention and close-knit atmosphere that comes with a smaller facility like Blocher Homes.
"We want to stay here," she told WBFO. "We just want to stay here."
For MacDougall, it's important seniors have a say in where they're living.
"It's not just for us, it's for seniors everywhere who feel that they don't have a voice," she said, "and it's important to know that everyone has a voice, no matter what your age is."