Warmer weekend weather could cause flooding
Ice flows down the Niagara River Thursday.
photo by Eileen Elibol
Chunks of ice cover the upper Niagara River.
photo by Eileen Elibol
One of two ice breakers work on the Niagara River Thursday.
photo by Eileen Elibol
Ice flows give the Niagara River an Artic look.
photo by Eileen Elibol
In a week that brought Buffalo its worst blizzard in recent years, any weather would seem to bring relief. However, despite the arrival of milder temperatures, new public safety concerns are being raised. A Flood Watch has been issued from Saturday morning through Sunday afternoon.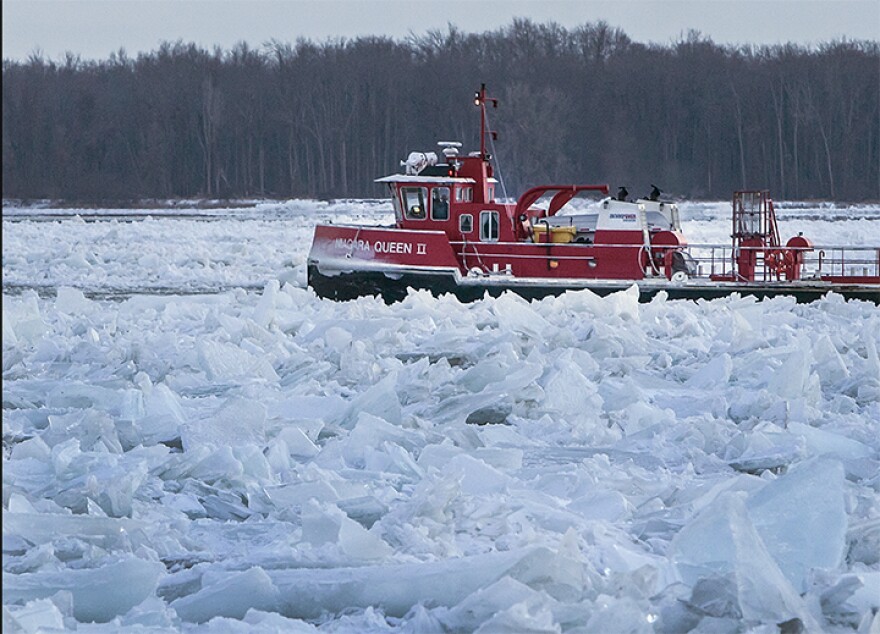 "The Buffalo River and the Cayuga Creek as well as the Cazenovia Creek and the Cattaraugus Creek. those are the ones in particular that we are monitoring," said Dave Thomas of the Buffalo office of the National Weather Service.
"We're looking for a warming trend for the weekend," Thomas said. "This flood watch is for the combination of snow melt and rainfall."
Thomas says his office scans an assortment of information as they anticipate floods.
"We do have to go out and visually observe these ice jams. We also have some spotters who will drive around the area and let us know the extent of the ice jam," Thomas explained.
"The knowledge we gain through experience knowing that having these deep freezes produce the ice jams. Then the warm up from the rain fall, those tend to produce some ice jam flooding across the area."
Buffalo Public Works Commissioner Steve Stepniak says his crews are ready to respond to this latest flood potential.
"We don't anticipate any problems. We'll continue to monitor through our staff and inform residents as needed," Stepniak said.
Stepniak said the fireboat Cotter was being used Friday to break up about six inches of ice along the Buffalo River at the South Park Bridge.