New Erie County reentry initiative aims to ease transition from jail
A new reentry program called Project Blue is a first-of-its-kind partnership to help formerly incarcerated individuals in Erie County transition back into society.
Project Blue launched Friday with the grand opening of the Erie County Holding Center's new reentry housing pod, where a maximum of 24 Project Blue participants can be housed. And yes—the walls are painted blue.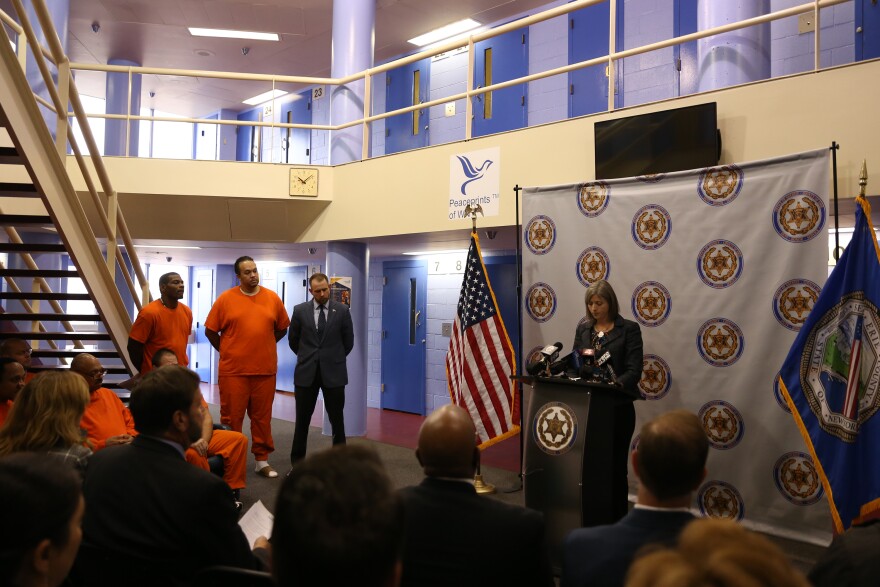 "As you can see simply by looking around this new reentry pod, this is truly an innovative collaboration," said Peaceprints of WNY Executive Director Cindi McEachon. "Over the last 10 years, I have personally worked with facilities of every jurisdiction level, and this is the first time in my career that I have experienced a partnership such as this one."
Peaceprints of WNY is a nonprofit organization that provides reentry services to men and women involved in the criminal justice system. Reentry is a huge challenge: Five out of six prisoners released in 30 states in 2005 were arrested again at least once during the next nine years, according to a 2018 Bureau of Justice Statistics report.
Another report found that nearly 82% of people booked into jail in Erie County in 2016 had been previously involved in the jail system.
In September 2018, Peaceprints was awarded a $1 million U.S. Department of Justice Second Chance Act grant to implement Project Blue in partnership with the Erie County Sheriff's Office and Catholic Charities of Buffalo. The program will provide case management services, workforce training and education, mentoring, substance abuse and mental health treatment and more—starting while participants are incarcerated at the Erie County Correctional Facility and Holding Center.
Project Blue will also provide housing coordination and 12 months of holistic support after an individual's release.
"Partnerships like this are important if we want to change lives for the better," said Thomas Diina, superintendent of the jail management division in the Erie County Sheriff's Office. "What we have created…is an important first step in not only assisting individuals as they prepare for release, but in changing the way that the public perceives the jail."
Four recent inmate deaths at the Erie County Holding Center or as a result of injuries sustained there have sparked public outcry and calls for Sheriff Timothy Howard to resign. Diina told WBFO the deaths aren't representative of initiatives like Project Blue going on inside the holding center.
"We want the people, the public to understand that we are not warehousing individuals within the walls of this building. We are encouraging them to engage in programming that is going to allow them to succeed and not reoffend, and that is something that Sheriff Howard has been adamant with, with all of our programming."
Jewett Medley is one of the Holding Center's first 21 inmates to voluntarily enroll in Project Blue. He told WBFO he expects the initiative to make a big difference for him and others in a similar situation.
"Usually, when we get out of here, we end up going out with no kind of help at all, and we get stuck in our old patterns and then we end up back here because we don't have no help," Medley said. "Now, we got somewhere to look forward to when we get out, and they're helping us to get on our feet more quickly."
Medley is a Buffalo native. He said he wants to be more supportive of his family and the broader community once he's released.
"I know that it's going to work because I have motivation for the program. I just want to be a light, a light to the society to let them know that, listen: All people that come to jail are not bad people. You know, we're good people, we have talents. I want to be a mentor for the kids one day. So, what better place to start than here?"
The Erie County Legislature's Public Safety Committee has asked Sheriff Howard and the Holding Center's Mental Health Division to present at its next meeting on Thursday, Oct. 31.