Sager family thanks the community for its support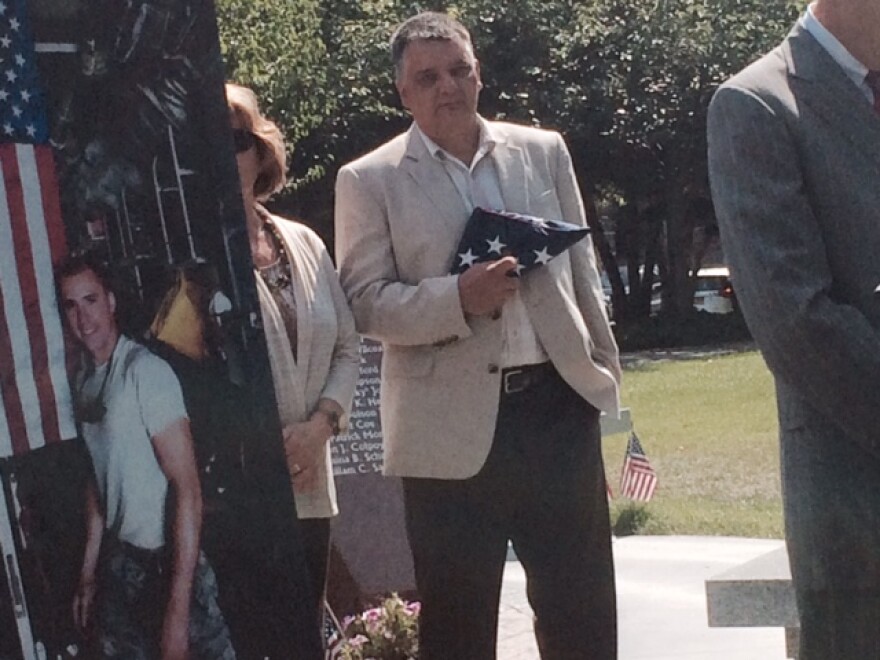 As the family of late Air National Guardsman William Sager, Jr. continues to cope with their loss, loved ones appeared at the Buffalo Naval Park's Fallen Hero monument Thursday to thank the community for its support throughout the ordeal.
"We are all going to have an empty feeling the whole rest of our lives," said Bill Sager Sr., the fallen airman's father.
William Sager Jr. died last July after he was shoved down a flight of stairs at Molly's Pub in Buffalo. On Thursday morning his family appeared at Buffalo's Naval and Servicemen's Park at the Fallen Hero monument to thank the community. Sager Sr. said they are all trying to move forward.
0723-SAGER-FAMILY-RAW.mp3
The Sager family held a news conference in downtown Buffalo Thursday morning to thank the community for support during the Molly's Pub trial and sentencing.
"This seemed like a very fitting place for my son. He came down here quite often," said Sager Sr.
Sager cried as he clutched a folded American flag he found in his son's belonging. "I come across this flag in this bag that he had to carry with him whereever he went. I never unfolded it," Sager said.
Sager also struggled to speak as he recounted receiving a letter from the President and U.S. generals around the country. Sager told reporters the content of President Obama's letter stated what a great loss his son's was to his family and country.
"It meant a lot," noted Sager.

Sager described his son as a "wonderful young man." His wife Crystal, Sager's stepmother, and his grandmother Shirley also appeared.
Under a plea deal, Basil admitted to pushing Sager down a flight of stairs. But for Sager Sr., the sentence has not delivered final closure.
"I think it is a small chapter. I don't know if it is closed for me. I don't know if it will ever be closed for me," said Sager.
Sager served in the Afghanistan War. His name is now etched in the fallen hero monument.
Sager's fiancé Erika Webster said it has been a "spot of healing" for her. She says she is trying to stay connected to military life by helping other veterans at the Vet's One Stop and connecting to war widows.
"I actually met a young gold star wife," It's not really a club you want to be in, honestly. Our situations are very different," said Webster.
The family is pursuing a civil lawsuit for personal injury and wrongful death claim. It has been filed against the City of Buffalo, Police Department, Police Commissioner Daniel Derenda for the two cops allowed to work security at the bar, the bar's owners and Basil himself.