Theater Talk: Tonys are in the books, local shows delight: "EARNEST" at Irish , THE SOUND INSIDE at The Kav, Raíces presents BLOOM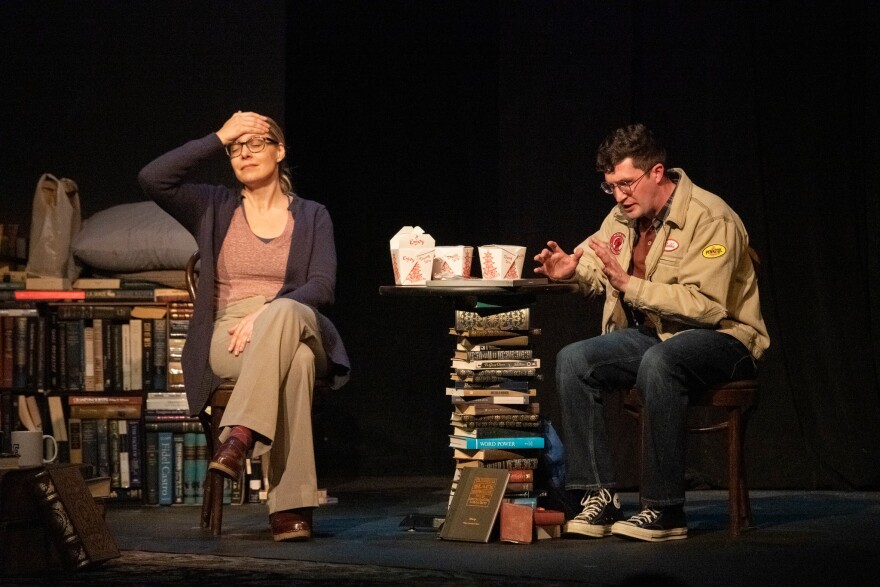 The Tony Awards on Broadway were (unscripted) fun although we were disappointed that Buffalo's Stephen McKinley Henderson did not win Best Actor. For a number of different stories about the June 11, 2023 Tony Awards, visit https://playbill.com/tonys Locally, "EARNEST" continues at Irish Classical as does THE SOUND INSIDE at the Kavinoky ("a marvelous little puzzle of a play" says Anthony) and BLOOM directed by Katie Mallinson finds the Raices Theater Company using the Road Less Traveled Stage.There are three more performances of HEAD OVER HEELS (Bellissima Productions on the Ujima Stage). (See listings below.)
Note: GOLDEN GIRLS 3, the drag parody, has been extended one week due to popular demand. It was scheduled to close this Sunday the 18th, but now runs through June 24 with both a matinee and and evening performance on the 24th. (See listings below.)
Anthony's reviews appear in The Buffalo News (buffalonews.com) and Peter's reviews appear in Buffalo Rising (buffalorising.com).
LOCAL LISTINGS ARE PRESENTED AS FOLLOWS: CLOSINGS (last chances to see these plays), then OPENINGS, then CONTINUING, the OPENINGS LATER THIS MONTH.
CLOSINGS:
HEAD OVER HEELS, conceived by & original book by Jeff Whitty; adapted by James Magruder, directed by Nicolette Navarro, produced by Bellisima Productions, starring Karen Harty and Eric Glynn as Queen and King with a talented ensemble. Remaining shows are June 16 at 7:30 pm and Saturday June 17th at both 3:00 and 8:00 (no performance on Father's Day), in the Lorna C. Hill Theater, Ujima Company, Inc, 429 Plymouth Ave., Buffalo 14213 Bellissimaproductions1@gmail.com Bellissimaproductions.com
HEAD OVER HEELS BLURB: This laugh-out-loud love story is set to the music of the iconic 1980s all-female rock band The Go-Go's, including the hit songs, "We Got the Beat," "Our Lips Are Sealed," "Vacation," Belinda Carlisle's "Heaven is a Place on Earth" and "Mad About You". A hilarious, exuberant celebration of love, HEAD OVER HEELS follows the escapades of a royal family on an outrageous journey to save their beloved kingdom from extinction — only to discover the key to their realm's survival lies within each of their own hearts. The plot of the show is adapted from "The Countess of Pembroke's Arcadia" written by Shakespeare's contemporary Sir Philip Sidney in the 16th century! HEAD OVER HEELS opened at the Oregon Shakespeare Festival in June 2015, running for five months in their outdoor theater. Three years later, after Jeff Whitty's departure, it opened on Broadway in July, 2018 at the Hudson Theatre where it ran for 36 previews and 164 performances. Content Warning- Simulated sexual acts and partial nudity.
_____
SONDHEIM ON SONDHEIM, a musical revue by Stephen Sondheim and James Lapine presented by MusicalFare, directed by Michael Wachowiak, starring Brittany Bassett-Baran, Kelly Copps, Philip Farugia, Alex Anthony Garcia, Ricky Needham, and Michele Marie Roberts. June 2-18, Fridays and Saturdays at 8, Sundays at 2 at The Premier Cabaret at MusicalFare Theatre, 4380 Main Street, Amherst, 14226. (716) 839-8540 www.musicalfare.com
SONDHEIM ON SONDHEIM BLURB: This cabaret features a multitude of classic Stephen Sondheim songs and video interviews with the legendary composer, revealing his inspirations. The songs are from 19 Sondheim shows produced over a 62-year period, including several songs each from WEST SIDE STORY, COMPANY, FOLLIES, A FUNNY THING HAPPENED ON THE WAY TO THE FORUM, SUNDAY IN THE PARK WITH GEORGE, MERRILY WE ROLL ALONG, PASSION, GYPSY, A LITTLE NIGHT MUSIC and INTO THE WOODS.
_____
OPENINGS: (listed alphabetically by title)
DEAR EVAN HANSEN (Shea's "special engagement") runs June 20-25, 2023. Tuesday - Friday at 7:30, Saturday at 2:00 and 8:00, Sunday at 1:00 and 6:30. Shea's Buffalo Theatre, a.k.a. Shea's Performing Arts Center, 646 Main Street Buffalo, NY 14202 (716) 845-1410 sheas.org
DEAR EVAN HANSEN BLURB: A letter that was never meant to be seen, a lie that was never meant to be told, a life he never dreamed he could have. Evan Hansen is about to get the one thing he's always wanted: a chance to finally fit in. WARNING - DEAR EVAN HANSEN is recommended for ages 12+. This production contains some adult themes, including discussions of suicide.
_____
MEASURE FOR MEASURE by William Shakespeare, presented by Shakespeare in Delaware Park, directed by Virginia Monte, starring Daniel Lendzian, Gretchen Didio, Luke Brewer, Lisa Ludwig. June 22-July 16, Tuesdays-Sundays nightly at 7:15 on "Shakespeare Hill" near the Rose Garden and the casino in Delaware Park. Bring your own chair or blanket, picnics are encouraged. (716) 856-4533) www.shakespeareindelawarepark.org
MEASURE FOR MEASURE BLURB: The Duke leaves Angelo in charge of Vienna, where he rules as a religious tyrant, quickly condemnING Claudio to death for immoral behavior. However, Angelo offers to pardon Claudio if his sister, Isabella, sleeps with him. Isabella agrees but actually has Angelo's fiancee switch places with her. The Duke returns to spare Claudio, punish Angelo, and propose to Isabella.
_____
WHERE THERE'S A WILL THERE'S A PLAY, an hour of scenes and sonnets by Shakespeare, adapted by Brendan Didio, directed by Norm Sham, presented in a touring format by Shakespeare in Delaware Park, starring Emily Basset, Heather Casseri, Connor Graham, and Nathaniel "Nate" W.C. Higgins. June 14 - August 21, all shows are free at 7:00 (with one added matinee, July 23 at 4:30 at Freedom Run Winery). For dates and locations, visit https://shakespeareindelawarepark.org/2023-tour-locations/
Bring your own chair or blanket, picnics are encouraged.
_____
CONTINUING: (listed alphabetically by title)
BLOOM, a play by Marco Antonio Rodriguez, WNY Premiere, directed by Katie Mallinson, presented by Raíces Theatre Company, starring Alejandro Gómez and Victoria Pérez, June 9 - 25, Thursdays - Saturdays at 7:30, Sundays at 6, Raíces Theatre Company at Road Less Traveled Theater 456 Main Street raicestheatrecompany.com
BLOOM BLURB: For years the government has sought to eradicate those who love in the way that Roan does. After being taken, imprisoned, and tortured, he is now returned home to his mother, Julia. But the sentence is clear: she has but one hour to end her son's life or face the consequences for her and her entire family.
_____
COME BLOW YOUR HORN, a comedy by Neil Simon presented by Desiderio's Dinner Theatre, directed by Jay Desiderio, starring Joseph Marciniak, Jacob Applegate, Buddy Baker, Molly McGrath Alyssa Grace Adams, Marc Ruffino, Cindy Schmitt. May 11-Jul 9, Thu & Sat dinner at 6, show at 7:30; Sun dinner at 1, show at 2:30. Bobby J's Italian American Grille, 204 Como Park Blvd., Cheektowaga (395-3207). www.mybobbyjs.com
COME BLOW YOUR HORN BLURB: Buddy is a 21-year-old virgin who decides to leave the home of his parents and live with his older brother Alan who is a ladies' man leading a swinging '60s lifestyle with an apartment in Manhattan's East Sixties. Later in the play Alan discovers feelings for one of the many women with whom he is sleeping and when she leaves him, he falls apart. Meanwhile, Buddy is becoming the ladies man.
____
GOLDEN GIRLS 3, "a naughty drag parody" by David Cerda, directed by Todd Warfield, June 1 - 24, Thursdays - Sundays at 7:30, with Saturday matinees at 3:30 on both June 17 and June 24, at The Alleyway Theatre 1 Curtain Up Alley, Buffalo, NY 14202 | 716-852-2600 alleyway.com
GOLDEN GIRLS 3 BLURB: Leave the kids at home for this adults-only naughty drag parody featuring Dorothy, Rose, Sophia, and Blanche getting into lots of x-rated mischief!
GRAND HORIZONS, a comedy by Bess Wohl, directed by Frank Kuhn, starring Eileen Dugan, Steven Jakiel, Pamela Rose Mangus, Jason Francey, Merrick Allen, Lisa Sember, Shawn Adiletta. June 9 - 25, Fridays - Saturdays at 7:30, Sundays at 2:30. Lancaster Opera House, 21 Central Ave., Lancaster (683-1776). www.lancasteropera.org
_____
GRAND HORIZONS BLURB: Nancy and Bill practically breathe in unison; they anticipate each other's sighs, sneezes, and ends of sentences. But just as they settle into "Grand Horizons," their new retirement community, Nancy wants out. Sophisticated and funny, provocative and honest, this new Broadway hit comedy takes an intimate look at the unpredictable and enduring nature of love. (Contains mature themes and language, recommended for age 18+)
_____
THE IMPORTANCE OF BEING EARNEST, a comedy by Oscar Wilde, directed by Kristen Tripp Kelley, produced by Irish Classical Theatre, starring Josh Wilde as John Worthing, Ben Michael Moran as Algernon Moncrieff, Chris Kelly as Lady Bracknell, with Melinda Capeles, Renee Landrigan, Vincenzo McNeill, Jenn Stafford, and Charmagne Chi. June 2 - 25, Thursdays - Saturdays at 7:30, Saturdays at 3, Sundays at 2 at The Andrews Theatre, 625 Main Street, Buffalo, NY 14203. 716-853-4282 irishclassical.com
"EARNEST" BLURB: Oscar Wilde's classic comedy of confused identity lights up ICTC's early Summer. John Worthing is Jack, except when he's Ernest. And his best friend Algernon is Algy… except when he's Ernest. What does Victorian-era code-switching and the quest for self-discovery look like in 2023? Vibrant characters, mistaken identities, and farcical antics come to play in this effervescent finale to ICTC's 32nd Season, helmed by Kristen Tripp Kelley in her ICTC directorial debut.
_____
THE SOUND INSIDE, a play by Adam Rapp, directed by Kyle LoConti, starring Aleks Malejs and Brendan Didio. June 9- 25, Thursdays - Saturdays at 7:30, Saturdays at 3:30, Sundays at 2. Kavinoky Theatre, 320 Porter Ave. (716) 829-7668 www.kavinokytheatre.com RUNTIME: 95 minutes "Pay what you want" Saturday nights on June 17 and June 24.
THE SOUND INSIDE BLURB: A brilliant Ivy League writing professor. A talented yet mysterious Yale student. An unthinkable favor. Everyone has a story - the question is how it ends.
_____
Shea's Buffalo Theatre has announced their 2023-24 Broadway Season:
MRS. DOUBTFIRE 9/24 - 30, 2023
MOULIN ROUGE! 10/24 - 11/5, 2023
with ANNIE as a "special engagement" 12/19 - 24, 2023
and then in calendar 2024:
GIRL FROM THE NORTH COUNTRY 1/16 - 21, 2024
FUNNY GIRL 2/13 - 18, 2024
LES MISERABLES 3/12 - 18, 2024
MAMMA MIA! 4/9 - 14, 2024
MJ THE MUSICAL 6/11 - 16, 2024
_____
2023 ARTIE AWARD WINNERS
PRODUCTION OF A PLAY
Murder on the Orient Express for All for One Productions
OUTSTANDING PRODUCTION OF A MUSICAL
Once on This Island
Shea's
OUTSTANDING ENSEMBLE OF A PLAY
Toni Stone
Ujima Theatre Company
OUTSTANDING ENSEMBLE OF A MUSICAL
Disaster!
MusicalFare
OUTSTANDING DIRECTION OF A MUSICAL
Chris Handley
Kragtar! The American Monster Musical
OUTSTANDING DIRECTION OF A PLAY
Katie Mallinson
Guards at the Taj
OUTSTANDING CHOREOGRAPHY
Kristy E. Cavanagh
Nice Work If You Can Get It
OUTSTANDING LEADING ACTOR IN A MUSICAL
Joe Russi in Cabaret
Second Generation
OUTSTANDING LEADING ACTOR IN A PLAY
Kevin Craig in Every Brilliant Thing
Second Generation
OUTSTANDING ACTRESS IN A MUSICAL
Amy Jakiel, Kragtar! The American Monster Musical
LEADING ACTRESS IN A PLAY
Aleks Malejs in People, Places, and Things
EMANUEL FRIED AWARD FOR NEW PLAY
María Pérez-Gómez and Victoria Pérez for Isleña
Raices Theater Company
OUTSTANDING SET DESIGN
Lynne Koscielniak
Murder On The Orient Express
OUTSTANDING TECHNICAL ELEMENT
Kris Bartolomeo for Makeup Design in The Addams Family
OUTSTANDING COSTUME DESIGN
Jenna Damberger
A Midsummer Night's Dream
Shakespeare in Delaware Park
OUTSTANDING SUPPORTING ACTOR MUSICAL
Anthony Alcocer in Rock of Ages
OUTSTANDING Supporting Actor in a Play
Brian Brown in Toni Stone
OUTSTANDING Supporting Actress in a Play
Lisa Ludwig in Murder on the Orient Express
OUTSTANDING Supporting Actress Musical
Arin Lee Dandes in Disaster!
Outstanding Featured PERFORMANCE
Renee Landrigan in Alley of the Dolls
OUTSTANDING DEBUT
Zhanna Reed in Once on This Island
KATHARINE CORNELL (for out of town actors)
Brian Marable in Thurgood
Irish Classical Theatre
CAREER ACHIEVEMENT
Loraine O'Donnell
Michele Ragusa