Winning civic app to help families find local schools, childcare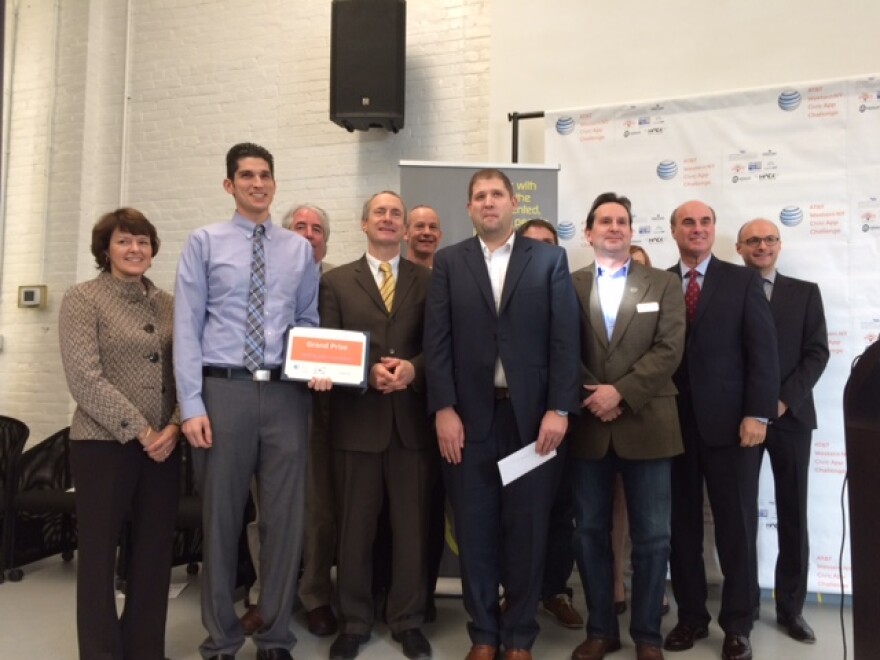 The winners of the AT&T Western New York Civic App Challenge were announced Thursday. The competition allowed smartphone app developers and entrepreneurs to tackle social and civic issues across the region through a competitive "virtual hackathon."
The winners were chosen from 33 entries and more than 125 participants. The first place prize of $10,000 was awarded to the makers of "WNY Family Connection." The app was created by Scott Falbo and Karl Newell. It allows caretakers to find local schools and childcare programs, check on violations, and see how the institutions have been rated based on a four star system. The mobile app also allows people to write their own reviews. Falbo says he believes it puts crucial information directly into user's hand.
"Personally, being a father and knowing that's an important decision when you have a child and you are entrusting care in someone else's hands, you really
want to make the best decision possible and sometimes you don't have all the information available. So, I think providing this information to the community is very powerful," said Falbo.
The second place winners were awarded $5,000 for the "NY Thruway Guide." The app was created by, Dan Wheeler, Shana Marcy, Sarah Marcy, and Amber Marcy. Shana Marcy says it assists motorists traveling along the state thruway system by providing information on nearby restaurants, rest stops, and cameras.
"Knowing what is nearby, what traffic alerts are up, whether it's construction or accidents. Knowing that is just so helpful when you're traveling, especially with the weather," said Marcy.
The third place winners walked away with $3,000 for their app called "Rentegrity." The mobile app was created by Eileen Ruberto, Sarah Quintal, and Tim Nabzdyk. The map based app helps renters find information about local properties. It also makes it easy to identify places of interest and learn if a landlord is local and if there have been any recent 911 complaints to the unit.
"We are absolutely thrilled to be chosen for this award," said Quintal. "It validates that there's broad community need for this project, and this backing will help us expand Rentegrity to offer thousands of renter's access to a larger set of meaningful housing data. With this award, we will develop new features, grow our community partnerships and work with the city to increase public access to property information."
The competition was judged by a panel of tech experts, area politicians, and community stakeholders. President and CEO of Launch NY Marnie LaVigne says it showcased how mobile technology could lead to the next generation of tech jobs and investment.
"Western New York is revitalizing the power of innovation in making our lives and our economy better and better," said LaVigne. "Congratulations to all the creative minds that came together to build these apps that can be the basis for the next successful business ventures that are ripe for Launch NY support."
The challenge was a collaboration between AT&T, University at Buffalo, State University of New York at Fredonia, Z80 Labs, InfoTech Niagara, Launch NY, United Way of Buffalo &Erie County, d!g Buffalo and Hack Upstate.