Empowering the women of Buffalo: We asked mayoral candidates Brown and Walton their plans
WBFO recently had the opportunity to sit down with Buffalo Mayor Byron Brown and his election challenger India Walton to ask questions about improving the lives of city residents over the next four years. Among the questions were those about equitable representation and empowerment for the women of Buffalo.
Links to each hour-long WBFO Reporter Roundtable with Byron Brown and India Walton are at the end of this summary of women's issues.
The first question was to India Walton.
What's the first and most important thing you're going to do to improve the everyday lives of women in the city, and those who identified as women?
"Everything that I do, and part of the reason why I am running, is because I want to bring the care and compassion and empathy that comes with fem leadership into City Hall. The notion that what our government does is not only deal with budgets and solve problems when they arrive, but is proactive and caring for our people." said Walton. "For CEDAW, I would like to sign that into law. I want to make sure that women are paid a fair wage, that trans women feel respected in City Hall. And, you know, also just encouraging women to assume positions of leadership."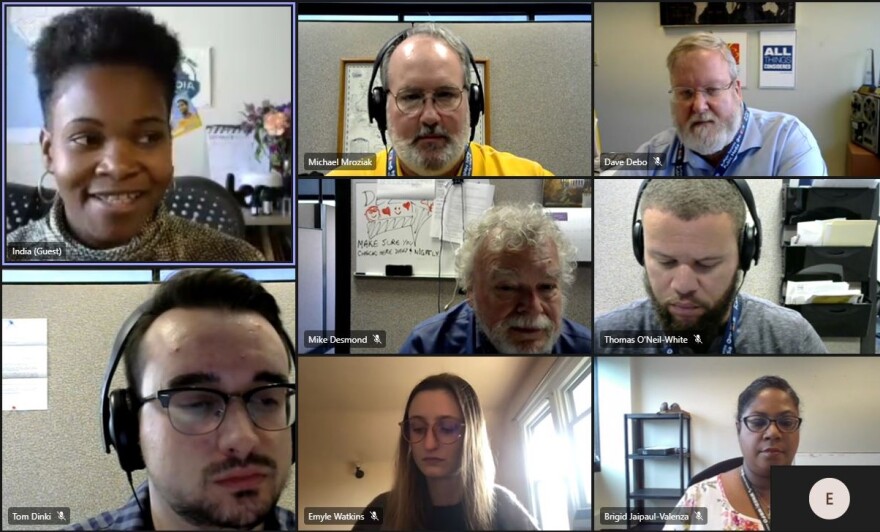 Brown named his most high-profile appointees and said his most successful accomplishment for women over his four terms in office has been hiring more highly-qualified women managers in city government than any previous mayor.
"We are modeling for the entire community, that there are very well qualified women in our community. And we are promoting and hiring and appointing those well-qualified women to significant management positions that are highly visible throughout the community," Brown said.
In August, Brown appointed City Planning Director Nadine Marrero to be in charge of redevelopment at the Buffalo Municipal Housing Authority's Commodore Perry apartments.
Does she signal a new strategy, a new action on the horizon for the projects?
"Well, yeah, there is a new strategy. There is new action that is underway for all of BMHA," Brown said. "We'll be spending between $5-$10 million to upgrade facilities systemwide, but also at Perry, at Shaffer and at Marine Drive the housing authority has secured over $250 million — so a quarter of a billion dollars — from the federal and state governments to do a comprehensive upgrade and redevelopment. Those RFPs are now in the final review and interview phases."
Walton also wants to see Perry redeveloped as housing.
"A couple of days ago, I received a phone call that the lights had been out in the Perry projects all day, that there were folks sitting outside, elderly people in wheelchairs, children who couldn't get up to their apartments because elevators were down," Walton said. "For some reason the water wasn't working, people couldn't use the bathroom, they hadn't eaten all day. But I think that the the project deserves the investment of rehab. We know that we're in the midst of a housing crisis, particularly when it comes to affordable housing, and the Perry projects is just sitting there ripe for the picking."
The majority of those on the picket line since Oct. 1 outside Mercy Hospital are women. Brown said he's been "extremely involved" in talks at the unions request.
"I have been able to express to hospital management the concerns of the nurses for increased pay, for expanded staffing, more coverage on staffing and other issues of concern, again, expressing my support and my desire on behalf of the community to see both sides work through their differences and resolve matters as quickly as possible," Brown said.
Walton also sees an active role for city government in critical labor disputes.
"No one is not going to take a call from the mayor, right? So I think there is a lot to be done," Walton said. "And I think it should be done in a way that is a serious conversation, sitting down with the leadership and urging them to negotiate in faith and in earnest."
Finally, Walton was asked whether the city could help mitigate the childcare crisis, because it's so closely tied to a woman's livelihood.
"ALICEs. They are Asset Limited, Income Constrained and Employed. You make just too much money to get any kind of assistance, but you don't make enough money to make ends meet. So those are the folks that we'll be targeting for any type of basic minimum income program," Walton said. "Because we know that when folks have access to that couple extra $100 a month, what they're doing is they're using it for child care so that they can go to work, or that they can go to school, or that they can do the things that are necessary to be able to shift them out of poverty."
Brown was offered the opportunity to respond about child care, but WBFO did not hear back from him.