Virtual event with WNY political candidates to focus on disabilities issues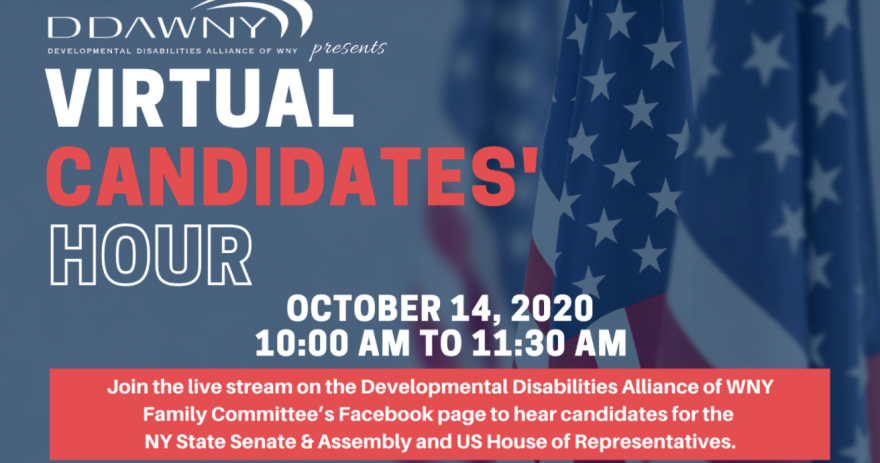 The Developmental Disabilities Alliance of Western New York (DDAWNY) will host a virtual event with local political candidates Wednesday in order to help voters learn more about their stances on issues related to disabilities.
DDAWNY Association Manager Wendy McCarthy said the event is for all voters looking to learn more about the platforms of local candidates but that questions will be geared toward issues affecting people living with disabilities.
"Parents, individuals with disabilities, community members, if you work for an agency: This is the time for you to really get some insider information on how the candidates feel about issues related to people with disabilities and services that are being provided," McCarthy said. "We are trying to gauge the candidates' knowledge and background on those topics."
DDAWNY is a membership organization made up of agencies that provide services to people with developmental disabilities throughout Western New York. The group has hosted in-person forums with political candidates for several years, McCarthy said, though they were forced to plan something "a little bit different" this year because of the coronavirus pandemic. As such, the 2020 Virtual Candidates' Hour will be live-streamed on DDAWNY's Family Committee Facebook page.
The event is scheduled for 10 a.m. Wednesday but will also be recorded for later viewing. Participants will include incumbent Democratic Rep. Brian Higgins of Buffalo (NY-26), the Democratic hopeful for New York's 23rd Congressional District, Tracy Mitrano, and two candidates vying to represent the 27th Congressional District: Democrat Nate McMurray and Libertarian Duane Whitmer. A total of 25 candidates, including many running for local state senate and assembly seats, are scheduled to attend.
"Each candidate will be asked two questions. One question will be from our moderator and the second question will be asked by either a self-advocate we've identified or a parent representative," McCarthy said. "The questions have been developed in advance with input from self-advocates, people with disabilities, family members and agency representatives."
McCarthy added that this is a "really important voting season" for people living with disabilities—a voting bloc which a new study by researchers at Rutgers University found to represent nearly one in six eligible American voters this November.
DDAWNY will also host a second virtual candidates' hour for the Rochester and Finger Lakes region on at 10 a.m. Thursday.