Hamlin home for further treatment and rehab in Buffalo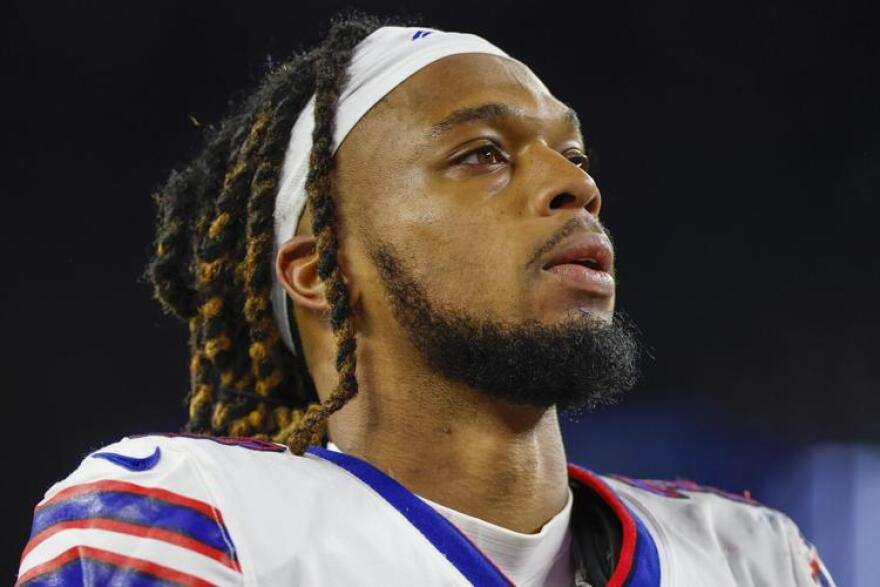 Doctors who treated Damar Hamlin said the Bills safety was moved to a hospital in Buffalo on Monday, an uplifting sign of the remarkable progress he has made a week after going into cardiac arrest and having to be resuscitated on the field during a game in Cincinnati.
Hamlin was discharged from the University of Cincinnati Medical Center in the morning and flown to Buffalo, where he will continue his recovery.
"I can confirm that he is doing well. And this is the beginning of the next stage of his recovery," Dr. William Knight said.
A statement from Kaleida Health confirmed that Hamlin was at Buffalo General Medical Center/Gates Vascular Institute.
"He is currently listed in stable condition and continues to make significant progress in his recovery, " the statement said, adding that the transfer to Buffalo was "to get him closer to home for further evaluation, recovery, and eventually discharge and rehabilitation."
Prior to his release in Cincinnati, doctors there said Hamlin has been walking since Friday, eating regular food, and undergoing therapy. They said he was on a normal or even accelerated trajectory in his recovery from cardiac arrest, which is considered a life-threatening event, and that normal recovery can be measured from weeks to months.
"We continue to be ecstatic about his recovery," Dr. Timothy Pritts said.
Hamlin's return comes a day after he cheered on the Bills from his hospital bed during their regular season-ending 35-23 win over the New England Patriots. The game proved to be a cathartic outpouring of support for the Bills and Hamlin.
Hamlin was so excited watching teammate Nyheim Hines return the opening kickoff 96 yards for a touchdown that "he jumped up and down, got out of his chair, set every alarm off in the ICU in the process," Pritts said with a laugh.
Pritts said it was still premature to comment on the potential cause of Hamlin's cardiac arrest.
The Bills wore No. 3 Hamlin patches on their jerseys Sunday and honored their teammate by raising three fingers in the closing minutes, while tight end Dawson Knox celebrated his touchdown by forming his hands into the shape of a heart. Fans joined in, with many holding up red hearts and No. 3 signs.
"Watching the world come together around me on Sunday was truly an amazing feeling," Hamlin said in a tweet announcing he was heading home to Buffalo, "with a lot of love in my heart.
"The same love you all have shown me is the same love that I plan to put back into the world n more."
The 24-year-old from the Pittsburgh area has made significant progress in his recovery since spending his first two days at the University of Cincinnati Medical Center under sedation and breathing through a ventilator.
He was awakened on Wednesday night and was eventually able to grip people's hands. By Friday, Hamlin was able to breathe on his own and even addressed the team by videoconference, in which he told the Bills, "Love you boys."
The last update from doctors came on Saturday, when they described Hamlin's neurological function as "excellent," though he remained listed in critical condition.
Later that day, Hamlin tweeted: "Putting love into the world comes back 3xs as much… thankful for everyone who has reached out and prayed. This will make me stronger on the road to recovery, keep praying for me!"
The NFL showed support for Hamlin during all Week 18 games by including a pregame moment of support, painting Hamlin's No. 3 on the 30-yard line and pregame shirts with "Love for Damar 3."
Hamlin's heart stopped on Monday night after making what appeared to be a routine tackle in the first quarter against the Bengals. The game was initially suspended before officially being canceled later in the week.
News of Hamlin's discharge from the hospital in Cincinnati was greeted with enthusiasm.
"That's unbelievable," Bengals coach Zac Taylor said.
"I mean, just think about it — that was one week, not even a week ago. There's no one in this room that would have expected he'd be in Buffalo," he added. "God is great. He works miracles. This is certainly a miracle, there's no question. ... And just an amazing moment for Damar."