WNY has second-lowest nursing home staff vax rate of any region in the state, as mandate approaches
Gov. Kathy Hochul was in Western New York Wednesday, touting a billion-dollar investment at the Robert Moses Niagara Power Plant. Asked about her administration's impending COVID-19 vaccine mandate for health care workers set to take effect Monday, Hochul promised the state is working on a plan to address resulting staffing shortages.
"We will find replacements," she said. "We'll be working very closely to have a multi-pronged approach, which I'll be announcing shortly. I just had my first call early this morning to look at all the options we have available and there are considerable options."
Options may be especially needed in Western New York, where, according to state data, 22% of nursing home staff are unvaccinated. Only the Mohawk Valley region has a higher percentage of unvaxxed nursing home staff.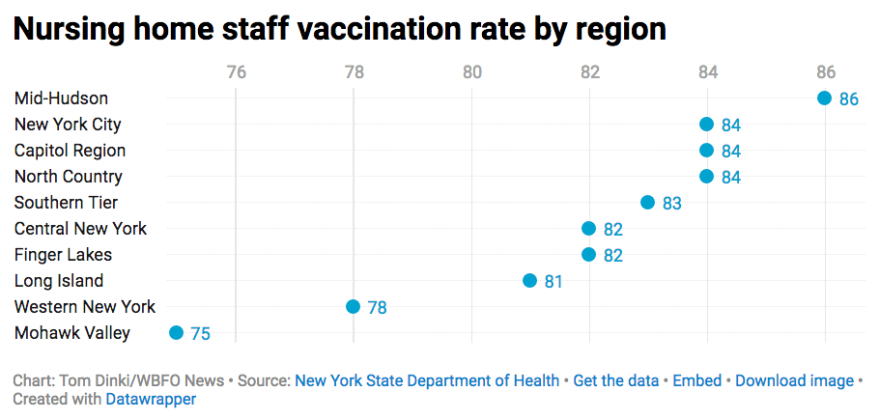 The nursing home with the lowest vaccination rate in Western New York, and among the lowest in the entire state, is Safire Rehabilitation of Northtowns in the Town of Tonawanda. More than half of its staff, 56% percent, are unvaccinated and may no longer be able to work on Monday.
"The management has been working with the staff and the union to try to get people vaccinated," said Michael Balboni, a spokesperson for Safire. "We continue those efforts. And we're putting in place contingency plans to deal with any type of situation that comes up."
Asked whether it reflects poorly on a nursing home to have such a low staff vaccination rate, Balboni said, in addition to being "an individual decision," it's a shared responsibility between the nursing home and workers' union.
Most local nursing home staff are represented by 1199SEIU. Grace Bogdanove, the union's vice president for Western New York nursing homes, provided a written statement.
"Since the vaccine became available, 1199SEIU has strongly encouraged our members to get vaccinated," she said. "We continue to do so."
Making the situation worse is some local nursing homes with low vaccination rates are already struggling to properly staff their buildings. Of the eight Western New York nursing homes with the lowest vax rates in the region, five are considered below average by the federal government when it comes to staffing levels.
The shortages are statewide. A recent survey of 200 nursing homes and assisted living facilities, conducted by the New York State Health Facilities Association, found about 99% percent already have registered nurse and certified nursing assistant vacancies.
"Given the dramatic and alarming staffing shortages we have in New York, now we can't do anything to exacerbate those shortages," said Stephen Hanse, president and CEO of the New York State Health Facilities Association.
The trade group is asking the state to provide a test-out option, allowing unvaccinated staff to continue to work while submitting to regular COVID testing.
"It's essential that we don't let these individuals just fall off, leave the employment of nursing homes and assisted living facilities on the 27th of September," Hanse said.
Others are more concerned nursing homes will continue to admit more residents, and the Medicaid dollars that come with them, even if they can't properly staff their buildings. A January New York State Attorney General's Office report found nursing homes, including several in Western New York, did just that during the COVID-19 pandemic.
"We know certain operators will continue to admit new residents when they currently are already understaffed," said Lindsay Heckler, an attorney with the Center for Elder Law and Justice, a Buffalo nonprofit legal firm that represents nursing home residents. She encourages families to send complaints about low staffing levels to the state health department and attorney general's office.
Hanse said nursing homes are already limiting incoming residents. He said his group's survey showed 59% of respondents said staffing shortages are negatively impacting their ability to admit new residents from hospitals and the community.
"So that is occurring now," he said.
Statewide, 17% of nursing home staff are unvaccinated. Heckler said she's surprised so many nursing home workers are vaccine hesitant.
"People who work in nursing homes saw firsthand the devastating impact on not only the residents, but their co-workers," she said. "It's no secret that the vaccine is effective. It's no secret that the vaccine is effective, and what we're seeing now not only in New York, but across the country is that the unvaccinated are suffering more severe effects, and they're being hospitalized."
Changing federal and state regulations, elected officials doubting efficiency, and the lack of a concerted educational initiative, all contributed to some health care workers' doubts in the vaccine, Hanse said.
"So I think a lot of elements have caused a reticence against workers in their willingness to be vaccinated," he added, "and I think we need to continue to work in partnership to educate workers, healthcare workers, and all individuals for that matter, as to the safety and the efficacy of the COVID-19 vaccinations."
There are no details on Hochul's plan to address staffing shortages, but it could mean sending state health department workers into nursing homes, or having nursing homes share vaccinated staff.
Balboni, who is also executive director of the Greater New York Health Care Facilities Association, isn't sure whether those steps will work.
"On an emergency basis? Short term? Yes," he said. "Not long term. That's just a bridge."
Although the mandate takes effect Monday, a federal judge has provided an extension for those seeking religious exemptions until Oct. 12.