Westminster Commons opens as 'happy medium' for older adults to age in place affordably on Buffalo's East Side
More older adults on Buffalo's East Side will be able to age in their own neighborhoods, as an affordable housing complex several years in the making is now open.
A ribbon-cutting ceremony was held Thursday for Westminster Commons, an 84-unit affordable housing complex located on Adams Street off Sycamore Avenue. The event marked the completion of nearly two years of construction on the $23 million project, which was heavily funded by New York state and developed by nonprofit agency Buffalo Federation of Neighborhood Centers.
Chandra Redfern, the federation's chief executive officer, said Westminster Commons will allow older adults in surrounding neighborhoods to remain in the city as they age.
"Because oftentimes, if a home can't be rehabbed due to structural issues to allow accessibility or different things, that person may have to go into a facility, which we know is not necessarily the greatest quality of living and it's also very expensive as well," she said. "So this is a happy medium where individuals still have their own apartment, their own place to live."
In addition to constructing the new Westminster Commons, the project also renovated the old Westminster Settlement House, turning it into a health care center for both residents of the complex and surrounding neighborhoods.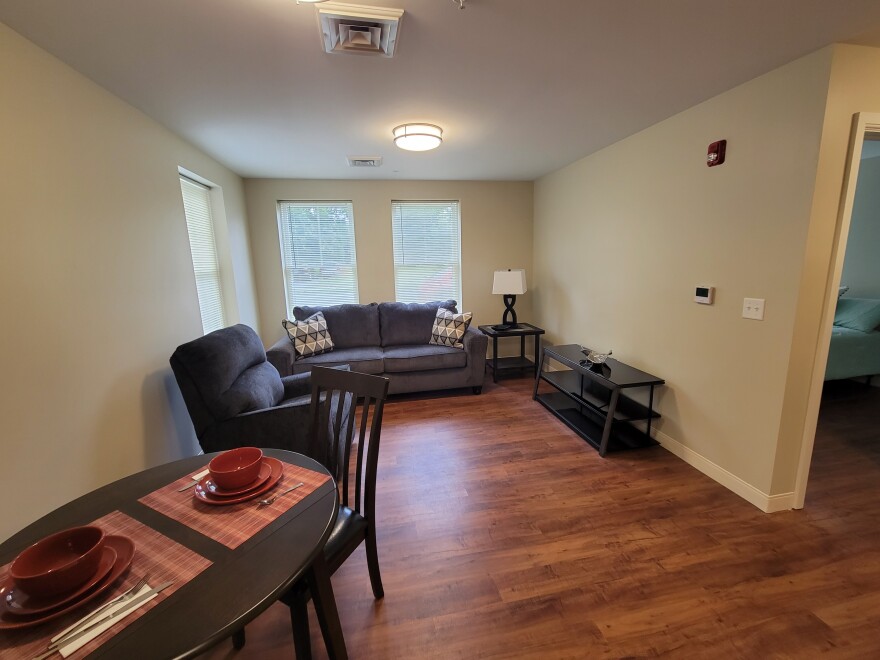 The space will include an adult day care program, a federally qualified health care center and an Evans Bank branch.
"So they can create new supports, they have new friends, there's building management on site," Redfern said. "And I think that that is something that a lot of people as they age start to look at what the next phase of their life is."
Eligible are adults 55 or older who earn at or below 60% of the area median income. Almost half of the units have been set aside for homeless people with mental illnesses.
That kind of housing could go a long way in a city like Buffalo, where 20% of older adults live in poverty, according to the Center for an Urban Future, a New York City think tank.
Buffalo Common Council President Darius Pridgen said Westminster Commons is an example of gentrification done right: improving the neighborhood while still making it possible for existing residents to stay.
"Gentrification has gotten a bad rap. Gentrification is the building up of neighborhoods. Today, it's about how you do it. Because some gentrification moves people out, who should be able to stay," he said. "Who would have imagined in the middle of a block on the East Side of Buffalo, that we're not only restoring a building, we're restoring hope for people who wanted to stay?"
The project was made possible with $14 million in federal tax credits, as well as other state subsidies. New York State Homes and Community Renewal says that it's invested $307 million over the last decade to create or preserve more than 3,200 affordable homes in Buffalo.