Cariol's Law backers demand Common Council members declare whether they'll pass it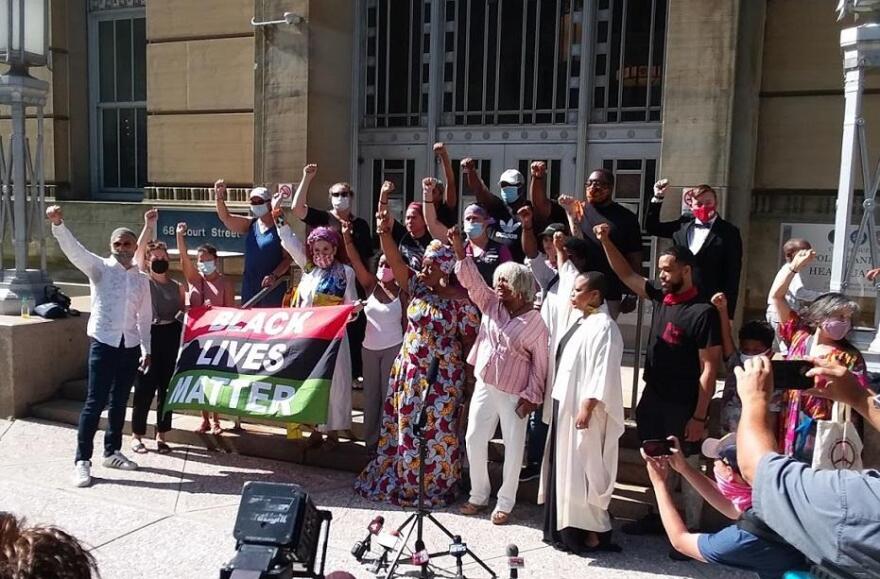 Supporters of a Buffalo police reform law named for an ousted officer are calling on lawmakers to state publicly whether they'll support it. Those backing the proposal known as Cariol's Law demand lawmakers keep her name on the bill if and when they may pass it.
Under Cariol's Law, police officers would be required to step in and stop any acts of brutality by fellow officers. The legislation also calls for protection of intervening officers from any internal retaliation.
Horne joined supporters outside Buffalo Police Headquarters in June to announce the proposed law bearing her name. The grassroots campaign pushing for passage of Cariol's Law recently released a written challenge to Buffalo Common Council members, asking them to state publicly whether they would commit to passing Cariol's Law in its fullness and with her name on it.
The campaign accuses Common Council members of pursuing an alternative "Duty to Intervene Policy" that, they say, is inconsistent with Cariol's Law. Common Council President Darius Pridgen, however, says that complaint is premature.
"There is not a law in front of us yet. What the Common Council authorized (September 1), by unanimous vote, was to have our Corporation Counsel begin to draft the law," Pridgen said. "So there is no law to even say it's not like Cariol's Law was intended."
The draft, he added, is due by September 15.
In 2008, Horne was a Buffalo Police officer who intervened to break up a chokehold placed on a suspect by a fellow officer. An arbitrator recommended Horne's dismissal, backing the complaint that her actions put other officers' safety at risk. Her firing was later upheld by a judge. She was one year shy of eligibility for a full police pension.
Since then, there have been calls to have the attorney general revisit her case, in light of racial protests nationwide.
Pridgen, for one, says he supports having Cariol Horne's name on the law but would not speak on behalf of all Common Council members.
He also explained that the legislation ultimately drafted might differ from the version submitted by the Cariol's Law campaign. First, the city's law department needs to determine whether the language is consistent with existing local, state and federal laws.
"The Common Council constantly gets legislation that is drafted off of the street. However, we have to have our laws approved as to form by our attorney," Pridgen said.
The Cariol's Law campaign posted a message Monday praising Pridgen for his stance, while urging other lawmakers to declare their positions.