Young women take to the streets of Amherst in support of social justice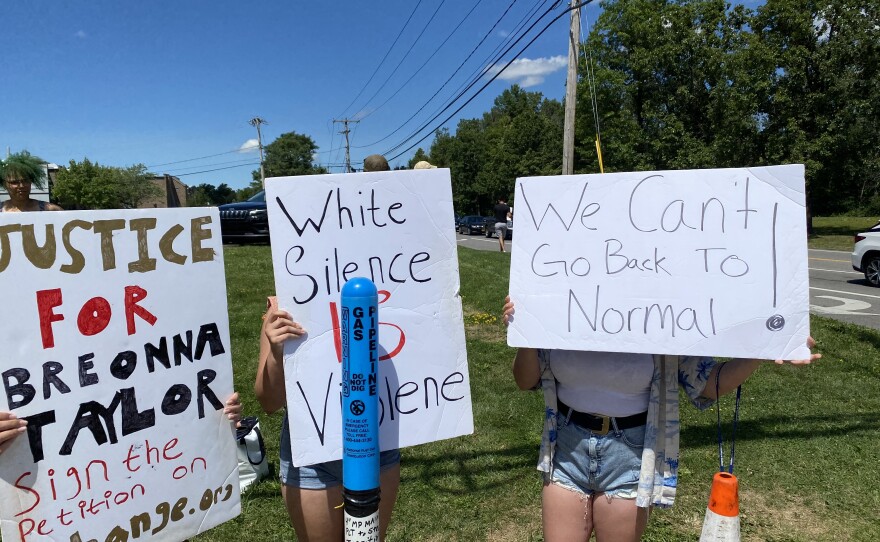 (L-R) Leah, Veronica and Sarah show their support for social justice measures
Thomas O'Neil-White
Members of the Western New York Liberation Collective hit the streets of Amherst
Thomas O'Neil-White
Expressions of support for victims of racial injustice are showing up in the suburbs.
Sarah, Leah and Veronica are three young white women from the Town of Amherst who have been spending their summer coming to the corner of Maple and Youngs Roads with signage voicing their support for the Black Lives Matter Movement and for the arrest of the police officers involved in the death of Breonna Taylor in Louisville, Kentucky.
The women said they are trying to dispel the notion the suburbs are absent when it comes to standing up to social issues.
"We're out here because the suburbs really don't see a lot of this," Sarah said. "The majority of the people here in the suburbs are white and they are entitled, and they don't really give a crap about the injustices going on in the world."
Holding a "Justice for Breonna Taylor" sign, Leah said people need to start thinking about causes bigger than themselves.
"I think people need to have more empathy for other people," she said. "Just because it doesn't affect you doesn't mean you can't care."
Having stood on the corner of a busy thoroughfare for the majority the summer, the women said not everyone they encounter has been a supporter.
"Well first what happened was there were two younger boys with Trump flag," Leah said. "When they saw us protesting they went across the street and counter protested. And then an old man, he came back multiple times. He was just trying to get us to believe that Black Lives Matter meant Marxism."
Veronica said their group will not be deterred.
"We've been out here for maybe a month and a half," she said. "And we get a lot of people like that, they always say 'oh we're going to come back.' A lot of times they don't because they realize (they) can't be out here every day. They think that we might go away or something, but we won't."
As cars honked their horns in support and members of the Western New York Liberation Collective coalesced around the women, Sarah had a parting shot for the local media.
"We're lucky to be interviewed right now," she said. "But there are a ton of Black people in Amherst, in Buffalo, that have been saying this stuff since they were born."