Making Buffalo Home: The year in immigration policy
From cutting the number of refugee admissions to "Remain in Mexico," the Trump administration enacted several new immigration policies in 2019. For Making Buffalo Home, WBFO's Kyle Mackie reports on what those changes mean for Buffalo and Western New York.
Making Buffalo Home is a WNED | WBFO multiyear project looking at the impact immigrants and refugees are making in our community.
Erie County resettled a high of nearly 2,000 refugees in 2016. Azizah Alnaes, from Syria, was one of them.
"It's hard to the people when you say 'refugee,' but it's okay because this is [a] safe place for my family and my children," Alnaes said, speaking about her experience moving to Buffalo at a community potluck hosted by Journey's End Refugee Services in August.
"When I live in Syria, I had [a] hard time with the war. It's a hard life. When I go to Jordan, it's hard life too, but when I came here, it is easy life for my children. They go to school. Everything is good."
Alnaes comforted her youngest son, teary-eyed at her knees, among a mixed crowd of several dozen recently-arrived refugees and longtime Buffalo residents at the Journey's End urban farm on Brewster Street, just east of Main. Colorful African prints mingled with tank tops, hijabs, sun hats and full-length abayas. One man from Iran carried a U.S. Immigration and Customs Enforcement pocket study guide with the title, "Preparing for the Naturalization Test."
Nearby, Kathy Spillman, director of specialized programs for Journey's End, shared a personal reflection on the City of Good Neighbors.
"I left Buffalo many years ago, and at that time the city was in decline, in terms of population, its economy," Spillman said. "But when I came back, much to my surprise—pleasant surprise—four years ago, [I saw] how much life has been injected back into our city because of our growing refugee and new immigrant populations."
Spillman's story will no doubt sound familiar to many Buffalonians. But the number of refugee arrivals has dropped by about three-quarters under the Trump administration. As of Dec. 20, Buffalo had resettled 488 refugees in 2019, according to the state department. In September, President Trump also set the lowest cap in history of 18,000 for national refugee admissions in 2020, down from 30,000 this year.
"18,000 is not a sell-out at a Sabres game," Executive Director of the International Institute of Buffalo Eva Hassett said, responding to the announcement at a press conference the following day. "18,000 is not a lot of people for a whole country, for a whole year, when there are 70 million people in the world looking to be safe."
Hassett is the City of Buffalo's former finance commissioner. She stresses what she calls the "demographic imperative" for the city to not only continue accepting refugees, but to actively recruit all kinds of immigrants.
"What happens when immigrants aren't coming to a city at the same time when it is shrinking and aging?" she asked.
One study by the Economic Innovation Group that provides an answer found that 80 percent of American counties saw a decline in their working-age population between 2007 and 2017. Hassett said immigration helps offset that trend in Western and upstate New York, as well as in cities across the Rust Belt.
"Buffalo looks just like Rochester, Syracuse, Albany, Utica, Pittsburgh, Cleveland, Columbus, Cincinnati [and] Dayton, which is to say it's a huge issue and we're in competition."
Joe Abramo, owner of Buffalo Wire Works, agreed.
"Yeah, if they reduce the number of refugees coming to Buffalo that wouldn't be good for our growth."
Buffalo Wire Works is a private, 150-year-old manufacturing company that makes screens of various materials for industrial, architectural and other needs. Abramo would not disclose his total number of employees, but he said about 75-80 refugees from 20 different countries make up a "significant part" of his labor force.
"It's gone very well for us. We like their work ethic," Abramo said. "They're providing for their family. Their families are doing well, and they're also going after degrees, which is wonderful. It's just like the immigrants of the old days. It's the American way: Come to America, work hard and get ahead."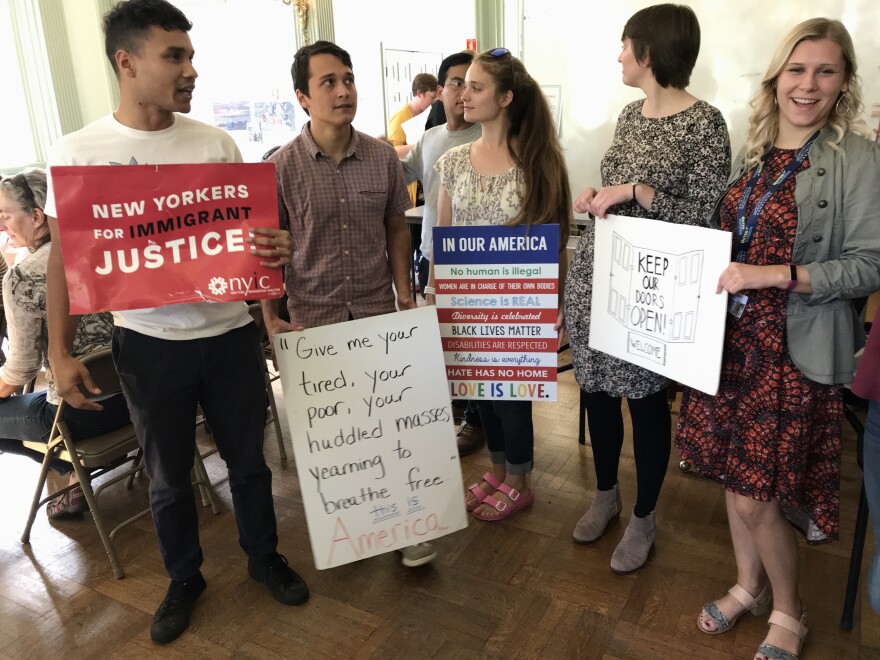 Abramo's employees reflect the finding that foreign-born residents in the Buffalo metropolitan region have helped create or preserve 3,116 local manufacturing jobs that would have disappeared or moved elsewhere, according to a 2017 New American Economy report. The same report found that foreign-born workers are overrepresented in area manufacturing compared to their share of the population.
"American industry needs workers that want to work in manufacturing," Abramo said. "That's the thing, there's a shortage of workers. I talk to executive after executive, they have the same problem. They can't find workers, qualified workers, that want to work in manufacturing."
The White House said the new cap on refugee admissions protects the welfare of American citizens and that the federal money spent on refugee resettlement could be invested in native-born Americans. But the administration isn't just changing policies regarding refugees. Hassett, at the International Institute, said, "every category of immigration is being made harder."
In August, the acting director of U.S. Citizenship and Immigration Services, Ken Cuccinelli, issued a new rule that would deny green cards and visas to non-refugee legal immigrants who use public benefits, like food stamps, housing vouchers and Medicaid. The rule could also be applied to immigrants deemed likely to ever need such benefits. Cuccinelli defended the so-called "public charge" rule in an interview with NPR's Rachel Martin.
"Would you also agree that Emma Lazarus' words, etched on the Statue of Liberty, 'Give me your tired, your poor,' are also part of the American ethos?" Martin asked.
"They certainly are," Cuccinelli answered. "Give me your tired and your poor who can stand on their own two feet and who will not become a public charge."
"Actually, we come here knowing that we should not live on food stamps," responded Daniel Leong, board chair of the Karen Society of Buffalo. The Karen are a Burmese ethnic group and one of Buffalo's largest immigrant communities. Leong said many Karen newcomers do rely on public benefits at first but work hard to get off of them as soon as possible.
Two challenges in federal court are currently blocking the public charge rule from going into effect. Another ruling is temporarily delaying a separate presidential proclamation issued in October that anyone applying for an immigrant visa to the U.S. must prove that they will be covered by health insurance or have the funds to pay for such insurance within 30 days of entering the country.
Other smaller changes, like making it harder for low-income immigrants to qualify for fee waivers for things like U.S. citizenship and work permits, have been ushered in more quietly.
"You know, as a community, I think we just have to see whatever comes and then live and support each other," Leong said. "I think that's what the most important thing is."
While less immediately relevant to Buffalo, another major immigration change in 2019 was the implementation of the Migration Protection Protocols, more commonly referred to as "Remain in Mexico." MPP is a policy that requires many asylum seekers arriving at the southern U.S. border to wait in Mexico until their case is heard, often via a video call. The success rate of those court hearings is less than 1%, according to data compiled by the TRAC Immigration project at Syracuse University.
For more Making Buffalo Home stories, visit wned.org/MakingBuffaloHome.