Meals on Wheels for Western New York tries to provide more than just meals during holidays
Meals on Wheels provides older adults with nutritious meals and some socialization all year around, but those services are especially crucial during the holiday season and winter months when seniors living alone may feel particularly isolated and lonely. Here WBFO gives a behind-the-scenes look at Meals on Wheels deliveries during the holidays.
Joan Denecki and Evelyn Derry are two of Western New York's roughly 1,700 Meals on Wheels volunteers. They drive from house to house in South Buffalo, hand delivering a warm lunch and cold supper to the neighborhood's older adults, many of whom live alone.
Their job is perhaps all the more crucial during the holiday season and winter months.
"(For) some people, it's a sad time," Denecki said during a delivery the day before Christmas Eve. "It can be a depressing time because they're by themselves, they don't have family around them."
Meals on Wheels for Western New York, which recently merged with the Food Bank of Western New York to become FeedMore WNY, delivered more than 860,000 meals to about 3,400 homebound older adults last year. But crucially, their deliveries also provide a daily welfare check and a bit of social interaction.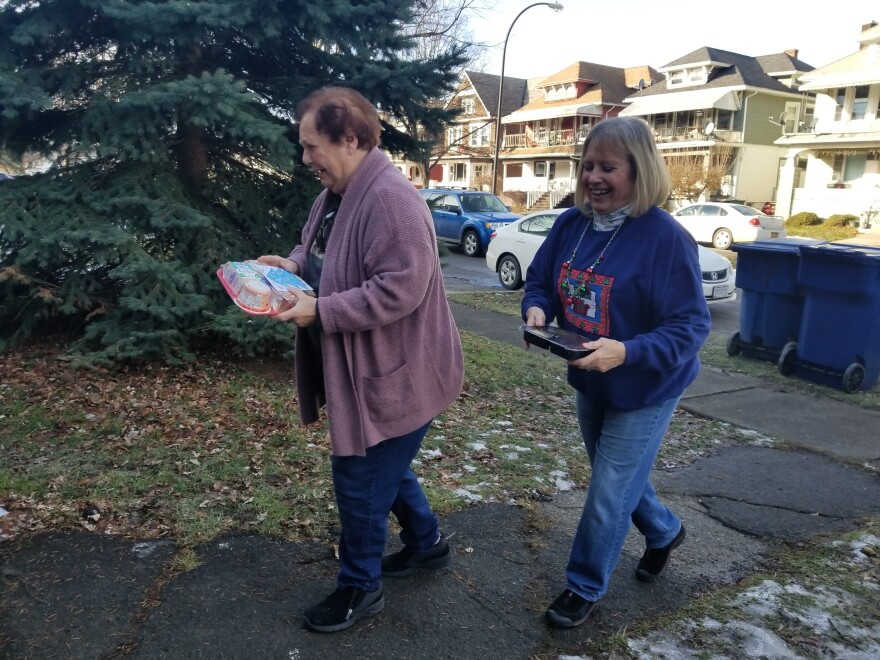 For older adults living alone, those visits can mean all the more during the holidays. Although Meals on Wheels doesn't deliver on Christmas Day, it does try to provide clients some extra attention throughout December, including by providing gifts and cards.
"We know that our seniors we serve sometimes may not see anyone besides the volunteer who's bringing their Meals on Wheels during the day," said Anne McKenna, chief communications officer for Meals on Wheels of Western New York. "So especially at the holiday time we know that loneliness is a factor for the elderly clients so we try to provide them with extra cheer."
Isolation is a common problem for older adults. Twenty-eight percent of older Americans live alone, according to the U.S. Department of Health and Human Services. A University of Michigan national survey earlier this year found that 60% of older Americans who live alone feel a lack of companionship.
This can have consequences, too. Isolation and loneliness have been linked to anxiety, depression and even Alzheimer's disease.
Dr. Bruce Troen, director of the University at Buffalo's Center for Successful Aging, said senior isolation can be exacerbated by the holiday season. Older adults may be reminded of their diminished friend and family support system or suffer from seasonal affective disorder, perhaps more commonly called the winter blues.
"Older adults, who may be keenly aware of the limitations they face on a day-to-day basis, unfortunately can often feel more sad about the impending holiday season even though most of us are often excited and experiencing joy with the holiday season," he said.
However, Troen sad health care professionals typically agree that programs like Meals on Wheels can help isolated older adults beyond providing them with a nutritionist meal. A 2015 Brown University study found older adults who live alone and received daily Meals on Wheels deliveries felt less lonely than older adults living alone who did receive daily deliveries.
"A significant part of the benefit of a Meals on Wheels program or even home health aides or physical therapy is actually the human contact," Troen said. "So even to see a friendly face once a day — I think we're all very convinced — can really be a very positive part of an ongoing supportive environment for an older adult."
Meals on Wheels tries to enhance that supportive environment around the holidays. It provided about 60 gifts to more needy clients this holiday season through Home Instead Senior Care's "Be a Santa to a Senior" program. It also provided holiday cards made by local school children through its Angel Card program.
Denecki and Derry recently provided one of those cards to Bill Froehley, a 73-year-old U.S. Navy veteran who has been receiving Meals on Wheels for about the last five months.
"It cuts down on stress and worrying about what I'm going to do for food because this stuff pretty much lasts me the whole day," Froehley said. "So less anxiety. It does make things easier."
Lillian Ten, 62, appreciates the meals, as well as the visits from volunteers like Denecki and Derry. She even keeps the holiday cards in a scrapbook.
"Sometimes I need them for support, that moral support of saying, 'Hello, how are you doing, Lil?'" she said. "To have somebody just share that with you and say, 'You're important to us,' that means a lot to me."
While the holidays are a crucial time, McKenna said the work of Meals on Wheels, and the need for more volunteers, is important all year around.
"The seniors that we serve through our Meals on Wheels programs ... their need doesn't disappear on Jan. 1," she said. "It's something that's always there and while the holidays can be a difficult time where there's maybe a little bit of an increase in need, there's always a need in our community."