$5M Allen Street reconstruction project begins pouring colorful sidewalks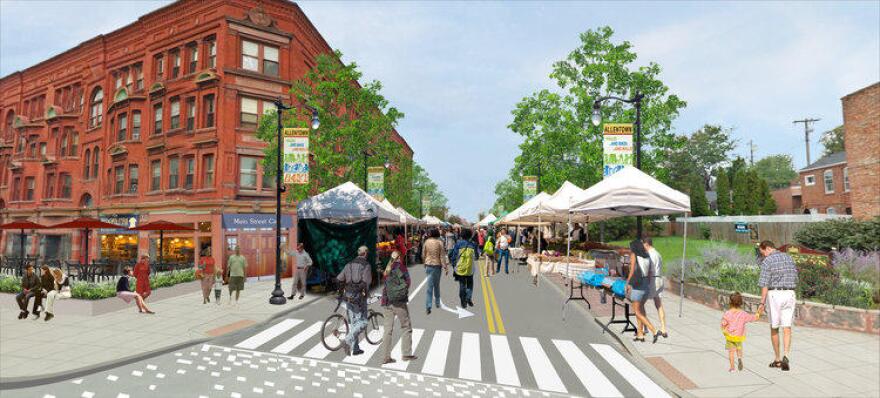 On Monday, contractors on the Allen Street construction project will start pouring the complicated and colorful sidewalks between Main and North Pearl streets.
While the project won't be completed until some time next year, newly nominated Buffalo Public Works Commissioner Michael Finn said there already is a lot of progress. The paving done on Wednesday is a sign the $5 million project is coming along.
Surrounded by construction equipment, construction noise, construction workers and pedestrians wending along the fenced-off street, Finn said there have not been any significant problems so far.
"I don't think we found anything that was unanticipated or out of the ordinary," he said. "This is a full-depth reconstruction project that we did plan out for a number of years and thought through many of the details and, so far, everything that we've worked on and prepared for has allowed us to progress this work."
This is a big effort because it involves digging down into street foundations around a century old, replacing varied utility lines and then filling it all back in to allow new pavement, curbs and sidewalks.
"In the first block, it's probably about a month to six weeks worth of work to get all of the different types of concrete that are going in," Finn said. "There's a design with different types of banding. That'll take a couple different pours. As I mentioned, they're going to start that work next week and we're depending they will be able to maintain that schedule."
Finn said the sidewalks will be colored to reflect community input.
"More towards a warmer palette of concrete, warmer colors that are reminiscent of the historic nature of the Allentown neighborhood," Finn said, "and we'll be moving forward with that, starting next week. The contractor will start to pour the concrete sidewalks with the colors that were recommended by the majority of the people that gave us comments."
Finn said the plan is to have as much as possible done by the end of the construction season and open the street to traffic for the winter, then finish the section between from Franklin Street to Delaware Avenue next year.