Exchange urges kids to swap toy guns, seen as a gateway to the real thing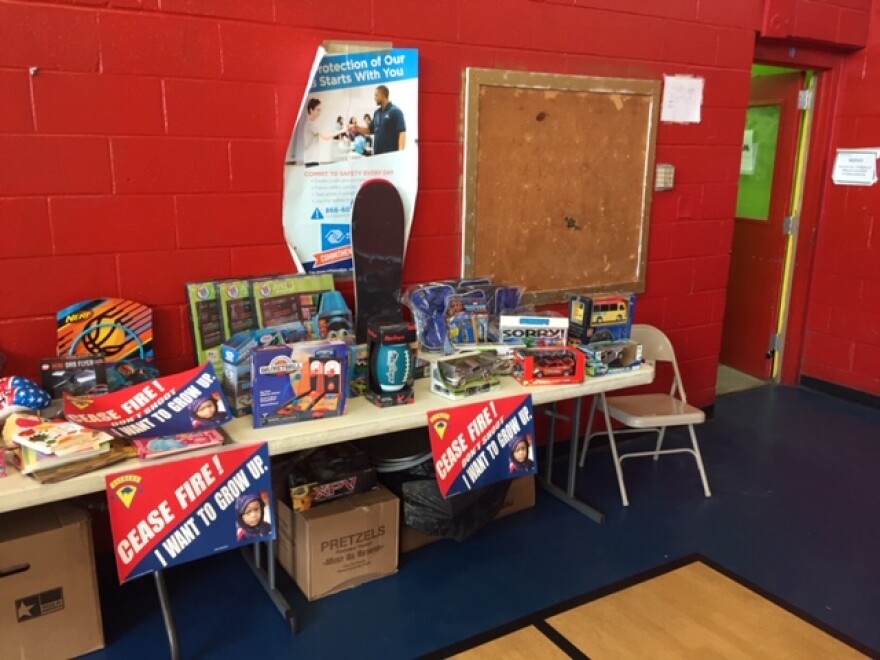 A table adorned with everything from books to footballs to Barbie dolls occupied the side of Masten Boys and Girls Club gym on Tuesday. They were given to children who exchanged their toy guns, in an effort to educate kids on the dangers of real weapons.
Buffalo anti-violence group F.A.T.H.E.R.S. is partnering with other local groups to provide the toys, which were deemed more appropriate, and to talk to youngsters about the dangers of guns.
Buffalo F.A.T.H.E.R.S. President Leonard Lane said it's hard to take a gun away from a young man.
"We hear now that a young man would rather be caught with a gun than without a gun," Lane said. "So if everybody has to have a gun, we have to find a way to take these things off the street. I'm not talking about legal guns, I'm talking about illegal guns we want to take off the street. So we have to start young, we have to start early, and we have to do it now."
Citing the Tamir Rice killing, where a child was shot by police after holding what turned out to be a BB gun, Lane believes toy guns now look almost identical to real guns. He said the same situation could happen in Buffalo.
For five years the City of Buffalo had a buyback program for real guns in an effort to curb gun-related crimes. Buffalo State Criminal Justice Professor Scott Phillips researched the data.
"If the assumption was that the gun buybacks would have an impact on crime, reducing crime, whether it was homicides, robberies, basically if the assumption is gun buybacks will reduce crimes in those kinds of areas, the assumption is incorrect."
Phillips said the findings in Buffalo mirror data done in other cities.
While lacking data on toy gun exchanges, Phillips applauded the local effort.
"I see it as a worthy endeavor, something they may not have any clear research on," Phillips said. "But hey look, let's try something. Maybe we can disconnect the acceptability of guns in these people's minds when they're kids."
Buffalo F.A.T.H.E.R.S. group is doing a similar toy gun exchange at the Delavan Grider Community Center Friday evening.