Ortt backing package of bills aimed at greater accountability of nursing home owners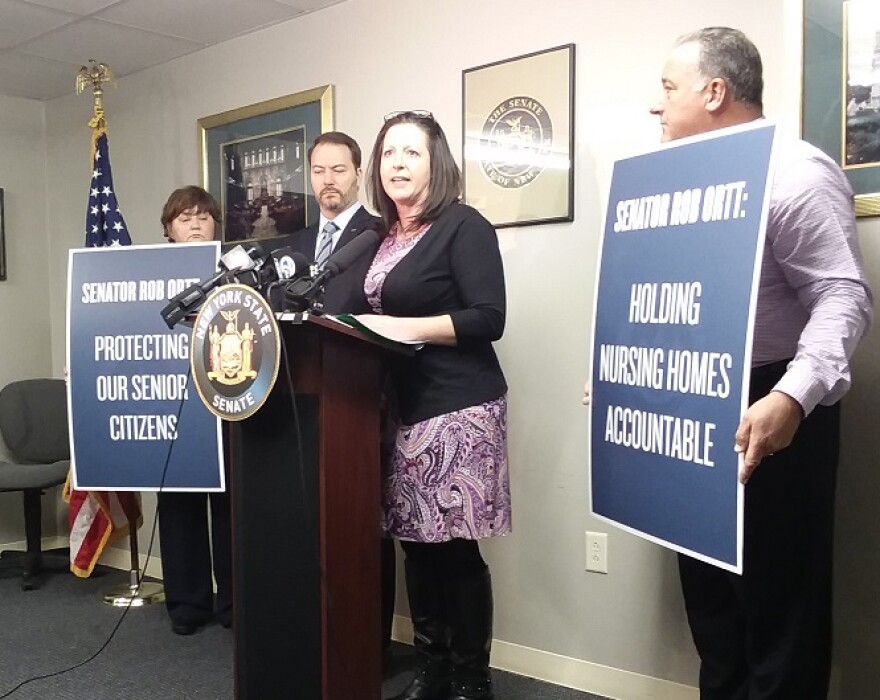 When the new legislative session begins in Albany in January, State Senator Robert Ortt will be submitting two bills - and putting his support behind an already forwarded piece of legislation - that supporters say will hold owners of nursing more homes accountable for compliance violations.
Ortt, a Republican whose district covers the northern counties of Western New York, wants to create unscheduled inspections of nursing homes and under one of his two bills, 40 percent of those surprise visits would come outside regular business hours, including nights, weekends and even holidays.
Under the current rules, facilities are given advance warning of a pending visit which, Ortt points out, gives many the opportunity to make the adjustments which keep them in good graces while the inspectors are watching.
"Even myself, when I went to a facility, naturally we told them we were coming," said Ortt, whose committee positions includes chairing the Senate's Mental Health and Devrelopmental Disabilities Committee. "I was told after the visit - and I've gone through a couple - by residents and family members who called my office, and pleaded that I not tell anybody that they called... they said 'what you saw yesterday was not how it normally is.'"
The second of Ortt's pending submissions will prevent any owners of nursing homes found with violations to acquire more properties until they're rectified, after which there would be a two-year probationary period after the issues are resolved.
Supporting Ortt's legislation is Kelly Bentley, who chairs the Family Council of the Villages of Orleans Health and Rehabilitation Center. Her grandmother, Florence Moden, has suffered abuses in her nursing home, according to Bentley, most recently as early December. Despite the family's complaints, she says, the problems have not been addressed.
"This is going to protect them," she said. "This is our future, our fate. Im sorry, but we have to have some changes in Albany that are going to come back and ensure that we as family members, who have entrusted someone to care for our loved ones, that they're actually going to receive that."
He is also throwing his support behind a proposal submitted this past May by outgoing State Senator Kemp Hannon that gives the New York State Department of Health more powers to fine violators. It would also require utilizing independent quality monitors, approved by the DOH, to directly supervise homes found to be non-compliant to ensure violations are addressed and fixed.
"Right now, there's a nursing home that's failing. They have to come up with a corrective action plan. Who makes sure that they do that?" Ortt asked. "Right now, I guess really the answer is we don't know. We hope that they comply. If they don't, maybe we get a complaint or call, but there's no one on site to hold the feet to the fire of the facility."
Hannon, the original sponsor of the bill which includes independent quality monitors, was defeated in the November elections and will leave office after nearly three decades. Ortt, who is certain to lose his chair position in the Mental Health and Developmental Disabilities Committee when Democrats assume the majority in January, acknowledged the challenge of forwarding his bills under new leadership.
He's hopeful, though, that his legislation will gain the support needed to be forwarded to Andrew Cuomo's desk later in 2019.
"This is an issue, whether you're Republican or Democrat, whether you're from upstate or downstate, this is an issue across the entire part of New York State," Ortt said. "It is my sincere hope that these bills will receive proper attention and will pass both the Senate and ultimately the Assembly and be signed into law by the Governor."