Buffalo plans for 30th annual New Year's Eve ball drop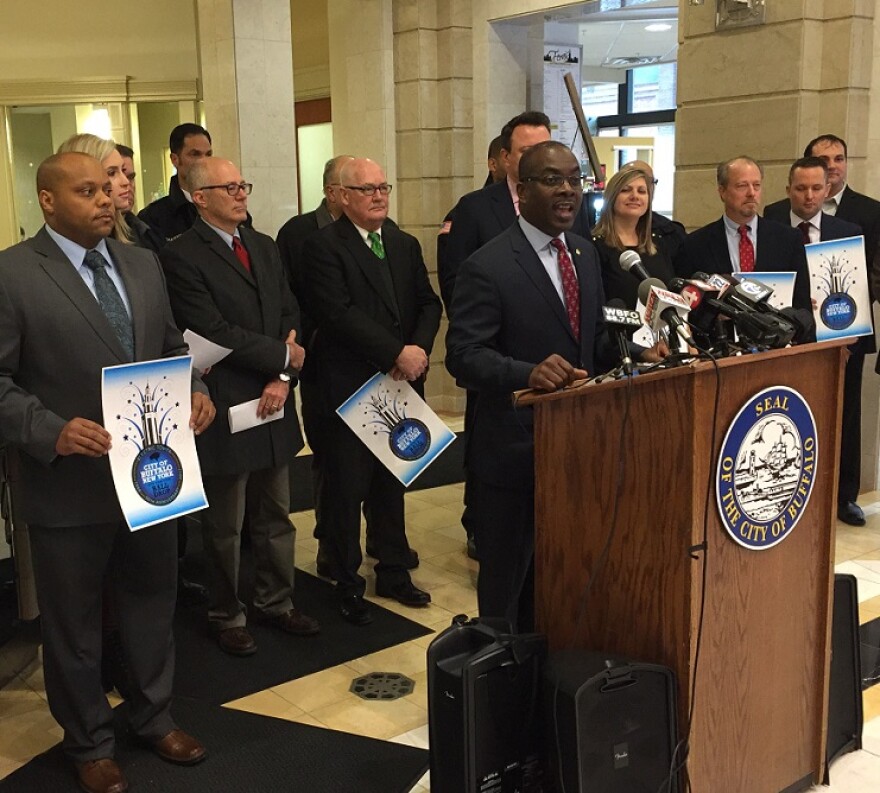 The City of Buffalo is preparing to host its 30th annual New Year's Eve ball drop.
Tens of thousands of people are expected to gather at Roosevelt Plaza to watch the illuminated ball slowly descend from Electric Tower, signaling the beginning of 2018.
Mayor Byron Brown joined representatives of numerous sponsors and partners to preview this year's event, which will for the first time include a laser show projecting images off some of downtown's buildings.
"Now in its 30th year, the ball drop and fireworks display has become an annual tradition that keeps getting bigger and better," the mayor said. "Downtown Buffalo is ready to celebrate the best New Year's Eve yet."
Brown spoke of the now $7 billion in development happening in his city, and the opportunity to showcase some of it. Buffalo's Police Athletic League, meanwhile, will be the recipient of financial support and awareness campaigning from the event's many sponsors.
"The Buffalo PAL provides educational, sports and enrichment and mentoring programs for youth in the Buffalo area, over 20,000 youth that we touch every year," said PAL executive director Nekia Kemp.
Among the ball drop's many sponsors is M&T Bank, whose longtime leader passed away last weekend. Senior vice president Keith Belanger paid tribute to his former boss during the ball drop preview.
"Bob Wilmers, who passed suddenly and unexpectedly last weekend, would tell you if he could how he pleased he is to see how far we have come these part few years in downtown," Belanger said.
"But he'd also say 'work to finish.' So let's ring in 2018 and get to it."
Prior to the ball drop on New Year's Eve, the Buffalo Niagara Convention Center will host First Night Buffalo, an alcohol-free, family-friendly indoor carnival, from 5 p.m. until 10 p.m.
Following its installation, the ball will go on a test drop Friday, December 29.