Developmental disability service providers urge Governor to keep funding in place
Organizations that serve those with developmental disabilities are urging Governor Andrew Cuomo not to make any funding cuts when he releases his budget proposal Tuesday. One of those service providers is People, Inc. WBFO's Eileen Buckley recently visited one its centers where young adults receiving training to become independent.
Inside the hallways of the People Inc on Delaware Avenue, the organization was buzzing with activity and enthusiasm. You could feel the energy from eager young adults attending job and skill training programs.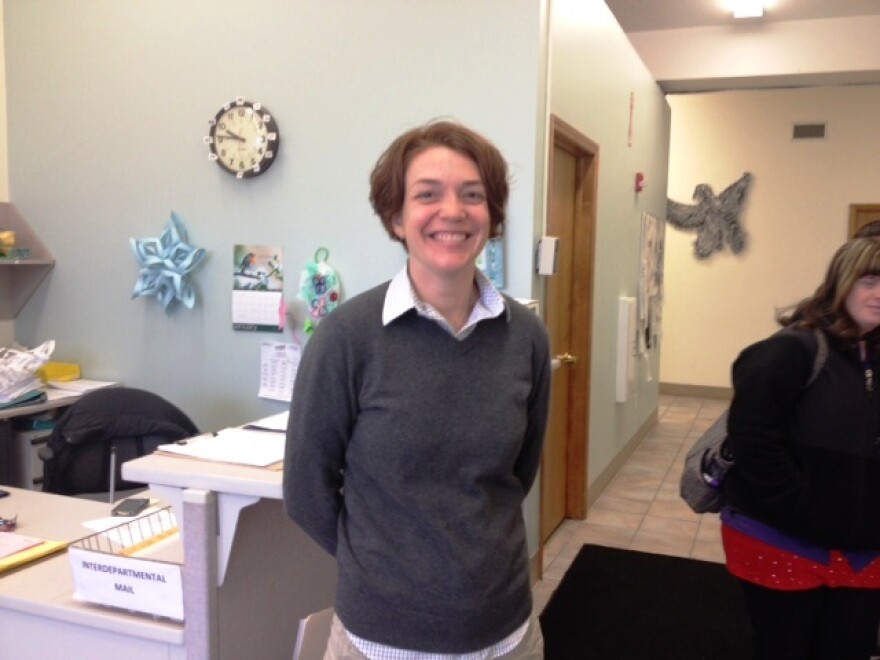 "These services -- overall -- are just integral to individuals with disabilities to really gain and promote independence in their future and in their community," said Marley Becker, the program director at the site.
A variety of day services are provided to those with intellectual disabilities. Some clients have mild to moderate autism and Down syndrome, while others have learning disabilities. It is at this facility where they receive critical training.
"Our goal is to get everybody into the community and really promote independent and to also get an idea of work experience, and the individuals come in a daily basis. We go to internships. They are provided with that real work experience and socialization aspect. And then what we hope is from there they move on to supported employment," said Becker.
Hands-on job training is provided within the center. Jonathan Caldwell is a client who has been learning to fill vending machines snacks and beverages into the center's vending machines. He said he likes his current work, but is really aiming to become a future chef.
"Where I go every Monday to my cooking class in Lackawanna," said Caldwell. "Someday I want to be a chef. I'd love to work in a restaurant someday."
"A majority of these individuals do want to continue on a career path. The goal of these programs is to promote and foster personal independent, responsible socialization and personal growth," noted Becker.
As we moved through the center, we talked with clients enrolled in Community Active People Programs, called CAP. That's where Emily Reinhart learns some important life skills to gain independence.
"I get help with money skills. working on banking. So I can do that by myself someday. I do different internships and I also have a job coach," said Reinhart.
Reinhart's goal is to learn ho w to work at a daycare center. Also enrolled in the CAP program is Fred Barber. He participates in a number of internships for job training.
Barber's goal is to someday work as an employee at People Inc to help others, just as he has received help from the organization.
"All the different internships we've been doing has really been helping me for the real world. We go to Sister's Hospital. That's where I go," said Barber.
WBFO News asked Barber what he would do if he didn't have the People Inc. program.
"I would be lost. This has helped me a lot. I would just be home doing nothing," said Barber.
Preventing these young adults from becoming homebound is one of the largest problems for families of intellectually challenged. Preserving these adult day programs has been the mission of Kathy Bunce.
"We're all bracing ourselves. It's been a tough two years of changes that have happened in the state as terms of funding," said Bunce.
Bunce's 18-year-old daughter Samantha has been with People Inc for many years. She attends the Northtown respite program. Bunce serves on on the DDAWNY Family committee program.
"We have not seen an environment like this ever in my 18-years in this world of services to people with disabilities. I've never seen the funding as difficult to obtain," said Bunce.
There are too many families with children "aging out of programs" are waiting for new help. While Bunce applauds some of the past work on at the state level by lawmakers to support programs, she tells WBFO News there remains a 'logjam' to open the gate at the ground level to serve those in need.
Rhonda Frederick is chief operating officer at People Inc.
"The federal government is changing things. The state is changing things. We are just hoping that -- the huge budget cuts we have seen are done," said Frederick.
People continues to see a rise in the number of those with disabilities seeking their services. The residential wait list continues growing. Last year funding for disabilities system-wide lost close to $400 million in funding. People Inc suffered a 10 to 12-percent cut just as business expenses are rising.
But perhaps most powerful was the message to the Governor and state leaders from program client Fred Barber.
"That they should keep on continuing them," said Barber.