Black balloons reminder of dark clouds of addiction
As the sky darkened into evening, names rang out in front of Old Erie County Hall. They were the names of those who have died in the area's opioids epidemic, read during a memorial to help their families deal with death.
"...Barb Lindley (bell ring), Alex Conley King (bell ring)....

As Erie County Health Commissioner Dr. Gale Burstein read the names, she was surrounded by black balloons: a symbol of the lives lost to opioid addiction in Erie County. Nationally, it is 90 per day.
Several hundred people looked on as public officials told of their support for the families of the dead. Erie County District Attorney John Flynn promised criminal charges for those who sold the drugs to someone who died as a result of a reaction to a drug.
Along the enveloping wall of Old Erie County Hall was a large photograph of Kaitlyn Haines and her two children. Her mother, Amy Haller, said her daughter just could not beat her addiction.
"I tried. I tried to help her," she said. "She was in many rehabs many times, jail many times. She had my support whenever she was willing to go that mile, but it was getting harder on her kids, then...."
Haines died in May of last year, 11 days before she would have turned 24, after more than five years of addiction.
Debra Smith was there for her son Nathaniel, a victim of a prescribed drug that turned into a fatal addiction. Smith said the crowd was joined together.

"In the midst of this epidemic, to express our passionate desire against our common enemy, the drug," Smith said. "Many of our loved ones were taken from us, taken in the prime of their life with a future ahead of them. We are saying, 'Not one more.'"
Mark Bucsek attended to remember his supporting and fun-loving brother Adam, who died last May. A tearful Bucsek said there are too many others in the same situation.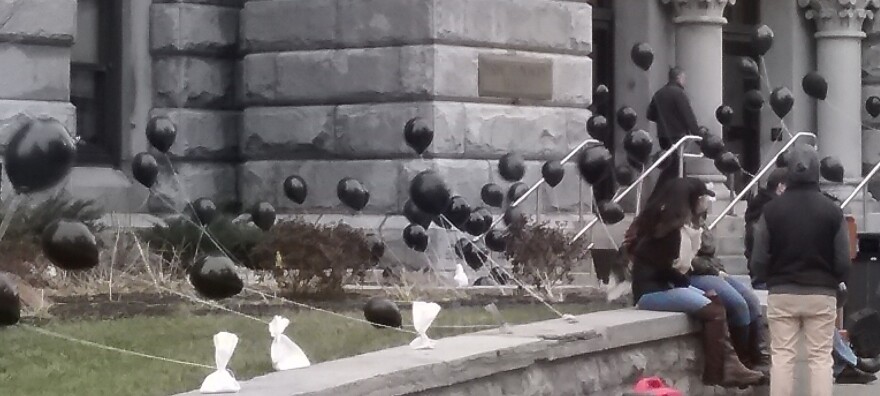 "While I'm devastated by what has happened and what has and continues to sadden me just as much as losing my brother, is knowing that my situation is unfortunately not unique," Bucsek said. "It's honestly disturbing to know there are so many others out there hurting as I am and that's just too difficult to comprehend."
Bucsek said his brother had a problem, but was killed when heroin he bought turned out to be a lethal dose of fentanyl.
Other relatives of other opioid victims held pictures and signs bearing the names of their relatives. Above, some of the black balloons rose and drifted off in the high wind.