Buffalo parent leaders 'not surprised' by remote start, most still not thrilled about process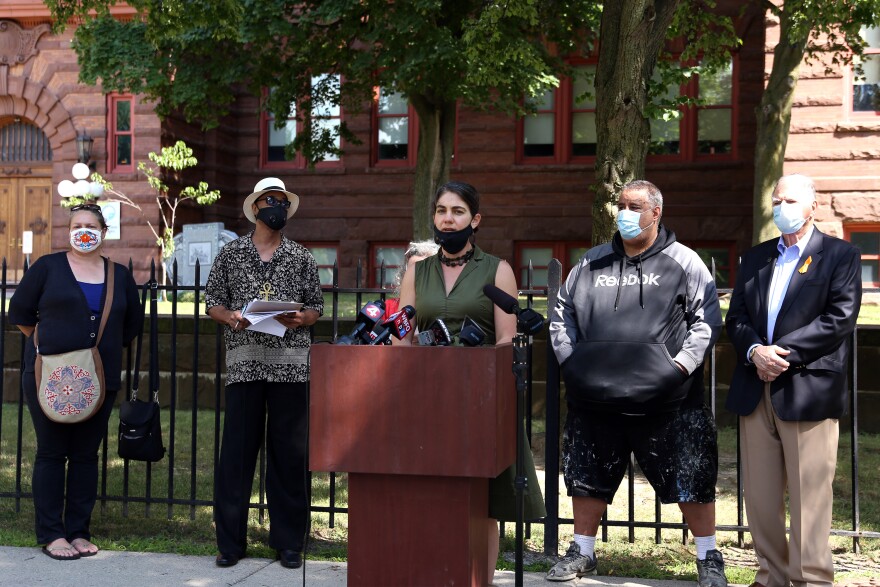 Buffalo Superintendent Dr. Kriner Cash described the district's decision to start the coming school year remotely on Thursday as "inclusive, systematic and thoughtful." Buffalo parent leaders, however, said that's not exactly the full story.
Most of the leaders of the five district-recognized Buffalo Public Schools parent groups told WBFO that they're not surprised by the Wednesday night school board vote that made it official: The district will start the school year fully remotely. But president of the District Parent Coordinating Council, Dr. Wendy Mistretta, said she feels let down by the process that led to it.
"As recently as, you know, last week, we were still being told that there was going to be deliberate outreach to all families where they were going to be given a selection of choices [for different modes of instruction] and asked to commit," Mistretta said.
Superintendent Cash also told WBFO last week that the district wanted to hear from parents about whether they would prefer remote learning or a hybrid model of in-person and remote instruction. Mistretta said it quickly became clear shortly after that that the district planned to move forward with a remote start no matter what.
"We kept asking, 'Okay, so when is the district just going to announce fully remote?' because it was clear by the end of last week, early this week," Mistretta said. "Even though we were hearing one thing in [planning] committees—that the district was actually moving toward something else—but we were still being told even in the public meetings on Monday and Tuesday that they hadn't decided yet, they hadn't decided yet, they hadn't decided yet. And we just knew that—it just felt very disingenuous, this whole process of claiming that we were a part of the decision when we really weren't."
"I think that's a short-sighted view of what is happening," countered Rachel Fix Dominguez, co-chair of the Buffalo Parent Teacher Organization, which has been more supportive of the district's reopening planning but still joined Mistretta and other parent leaders in raising a wide range of concerns about the process at a press conference in early August. The BPTO also called for a delayed or remote start to the school year in order to further develop plans for COVID-19 testing and contact tracing before bringing students back into school buildings.
"This decision [to start remotely] was made to ensure that the next few weeks will be as safe as possible for the largest number of people possible, and the hybrid model is not off the table," Fix Dominguez said. "The planning work that has been done from spring throughout the summer is not for naught."
Fix Dominguez, Mistretta and other parent leaders also agree that the district should prioritize students with special needs and multilingual learners for the earliest possible return to school buildings. Edward Speidel is a parent of two Buffalo students with special needs and an active member of the Special Education Parent Advisory Committee (SEPAC). He said the decision to start remotely is very difficult for him to accept.
"I'm heartbroken. I'm angry. I'm disgusted," Speidel said. "I'm in disbelief because we sat in these [planning] committees with the anticipation that we may open."
Speidel also said he feared retribution for speaking out against the district's decision, as he's currently up for an appointment to the SEPAC board—a move that has to be approved by Buffalo school board members. The board declined to vote on Speidel's appointment Wednesday, but he said he won't stop trying to hold the district accountable.
"I never once say, 'only my kid.' You know, in a small window, I've had to say, 'I need my children in school,' but I'm advocating for what's right for all these children, for all of them," Speidel said, breaking up in a phone interview. "No matter who they are [or] where they come from, I want the right team for every kid."
Child care is another major issue being raised by many parent leaders and school board members. Jessica Bauer Walker is president of the Buffalo Parent Community Health Worker Association, which has also criticized the district's reopening process for a lack of transparency and public input.
"I'm on the Erie County Child Care Task Force right now, I'm on the After-school Network—I just got off a call with them. We're doing this Freedom Schools initiative that's very grassroots and very community-based. We're not waiting for the district to figure this out for us, we're trying as best as we can to be empowered," Bauer Walker said. "We still want to collaborate, of course, but we really need to create stronger bridges between the district and families and community, and we cannot be working in silos right now."
Bauer Walker also said she worries that the district's most vulnerable families haven't had a voice in the district's surveys and public meetings about reopening because they're in "survival mode."
The fifth district parent group, Most Valuable Parents (MVP), could not immediately be reached for comment.