Buffalo students from Congo to Colombia debut professional music video with help of local artists
A group of Buffalo Public Schools students singing in English, Spanish and Swahili premiered a music video Wednesday of an original song they wrote and recorded with the support of local artists.
The project was spearheaded by Bob James, a musician and educator who's been working with students in Western New York for more than 30 years. In 2018, at the suggestion of a friend, James set up a meeting with Principal John Starkey at Lafayette International Community High School.
"When I came in, I said, 'I have this idea to do a very pro-social music project that ends up with a music video.' He [Starkey] goes, 'Perfect.'"
James is director of Student Voices, a music and media program, and he's now worked with two groups of Lafayette students on Buffalo's West Side to compose and record original music. The effort is supported by the Rich Family Foundation and Northwest Buffalo Community Center.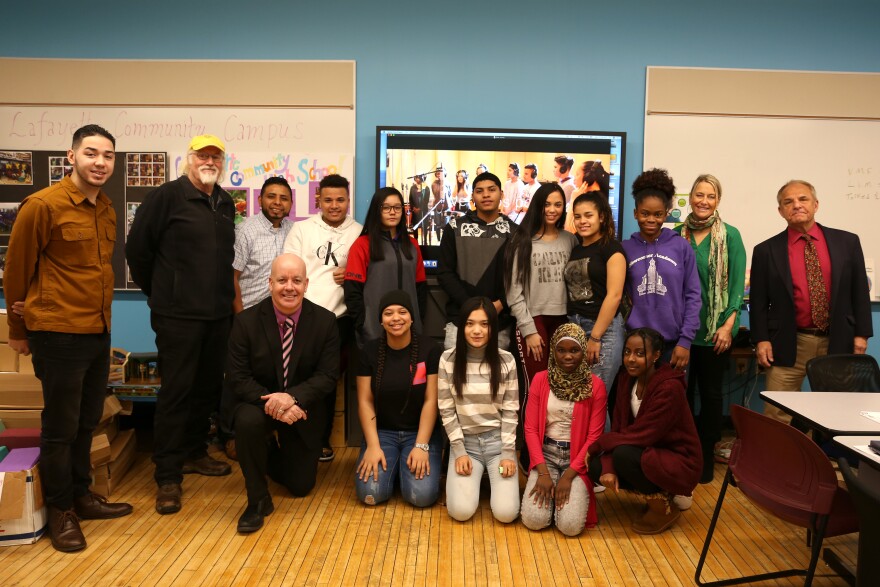 All of the students at the new Lafayette International Community High School, which opened its doors at the same location as the former P.S. #204 Lafayette High School in 2016, are refugees or immigrants* who have been in the country for less than six years.
"They're kids from all over the world, and I've learned as much or more as they have just by being exposed at their stories and the countries that they came from," James said.
Those countries include Tanzania, Colombia, Cuba, Eritrea and the Democratic Republic of the Congo, among others. There are also several students in the group, like Jaimet, from the U.S. territory of Puerto Rico.
"About this musical project, I can say that I feel very grateful because I had a great opportunity to open my mind and chase my dream and do collaboration with people from other countries," Jaimet said.
Madine is another participant from Sudan.
"I always want to sing. You know, I always sing everywhere I go—even in the bathroom," Madine said. "And now… I even saw myself on YouTube and I was so glad to see [it]."
The students wrote a song called "We Came for Love" about their families' reasons for moving to the U.S. The main lyrics, "We came for love / We came for freedom," are repeated throughout in English, Spanish and Swahili.
James and the students recorded the song along with other local musicians at GCR Audio—the Allentown studio owned by James' longtime friend, Robby Takac, bassist and founding member of The Goo Goo Dolls. Christian Casillas, an alumnus of P.S. #192 Buffalo Academy for Visual and Performing Arts and SUNY Buffalo State, filmed and edited the music video.
"As their music teacher, I really appreciated the opportunity that they had to experience the life of a professional musician," said Cara Calabrese at Lafayette. "I also loved the fact that they were able to integrate their native language and rhythms into the piece that they wrote, and that it was a genuine collaborative effort. I think that they all learned a lot from each other and we're very proud of them."
The first song James created with Lafayette students in 2018 was called "We Are Freedom." "We Came for Love" was completed in June, and James said he looks forward to starting work on a third music video with a new group of students soon.
"Their stories really ring true in the midst of all this political conversation nationally about immigration. These are the faces of how it really works."
*Students from the U.S. territory of Puerto Rico are American-born citizens, not immigrants, though they may be newcomers to the mainland U.S.