State test scores show little change in English, Math proficiency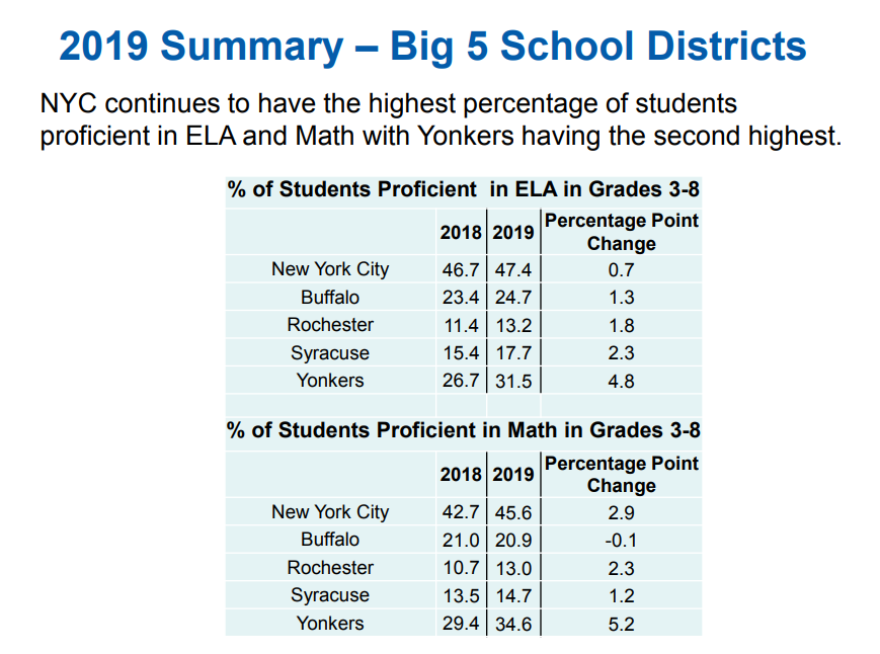 The New York State Education Department released the spring 2019 test results for grades 3-8 in English and Mathematics Thursday, showing less than half the state's students are proficient.
The report said, of the 1,090,000 students who took the tests, 45.4% showed proficiency in English statewide, an increase of 0.02%. The statewide results were better in Math, where 46.7% of students showed proficiency. That is a 2.2% increase for 2019.
Buffalo is among the state's Big 5 school districts. The report showed 24.7% of Buffalo Public Schools students proficient in English, a 1.3% increase from 2018. Only New York City saw a smaller increase: 0.7%. In Math, 20.9% of Buffalo Public School students are proficient in Math, a 0.1% decrease. All other Big 5 districts saw increases in proficiency.
For more data on Buffalo schools, click here. For specific Buffalo schools, click here.
For data on other school districts, click here. For specific district schools, click on the "SCHOOLS" tab at the top of each district webpage.
The statewide charter school proficiency rates were higher than the totals for traditional public schools in both English and Math. Statewide, 54% of charter school students were proficient in English, while 54% were proficient in Math; those numbers remained the same as the prior year.
The report said girls continue to outperform boys in both English and Math. It said the achievement gap between black and Hispanic students' proficiency narrowed slightly when compared to their white peers. Likewise for the gap between American Indian/Alaska Natives and whites. Asian/Pacific Islander students continue to outperform all other ethnicity groups.
Parents and educators who oppose high-stakes testing will likely continue to refute the value of the results. Though "test refusals" have dropped statewide from 19% at its peak to 16% this year, many opponents of testing argue that districts that are mostly white and more affluent tend to do better on tests.
The Education Department said it will continue an emphasis on fostering equity and closing gaps through:
implementing NY's ESSA plan;
our My Brother's Keeper movement;
a renewed focus on IDEA compliance;
placing emphasis on importance of early learning;
expanding opportunities for parent and family engagement; and
educating the whole child through social emotional learning, culturally responsive-sustaining education and school climate initiatives.
WXXI's Randy Gorbman contributed to this story.