City Honors celebrates Confucius Classroom designation
One of Buffalo's best public schools is celebrating another achievement. City Honors in Buffalo received designation for a "Confucius Classroom". WBFO's Focus on Education Reporter Eileen Buckley says the Confucius Institute Headquarters in China provides the status to 300-schools in the United States.
City Honors students showed off their talents performing Chinese music. This designation recognizes the school for its impressive quality and growth of its Chinese language program.
City Honors Principal Dr. William Kresse launched the program in 2006. He recalled that it was former Buffalo Schools Superintendent James Williams who encouraged city principals' at the time to start Chinese language program and Kresse took on the challenge.
"Building a new language program at CHS was a risky move and at times, it was enough to make a well-seasoned principal experience sleepless nights," Kresse told the assembly. "It took us six months, yes six months to find our very first Chinese teacher."
The University at Buffalo's Confucius Institute partners with the school. It helped secure the generous grant that goes along with the designation. Dr. Jiyuan Yu is Executive Director of UB institute. Yu joined the celebration.
"And tomorrow we expect that you to become American ambassadors to China. To become top scholars in China in area of China studies and to become great specialist in all areas of U.S.-China relationships and make contributions to peace," stated Dr. Yu. "So I hope that City Honors students are aware of how lucky you are for having such a great learning environment and make good use of the resource."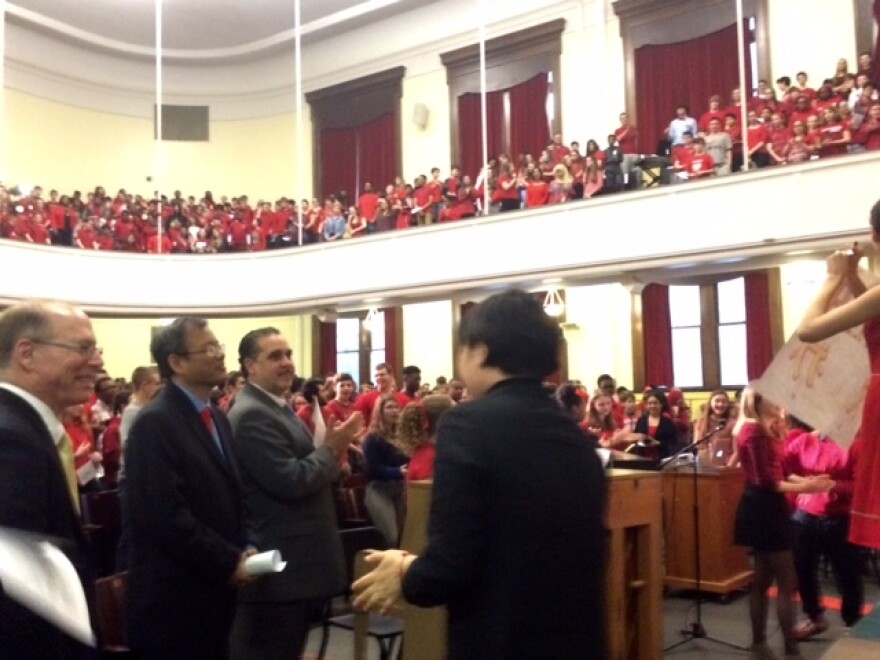 City Honors will receive $25,000 in the first year and $10,000 each year indefinitely. During the ceremony, a plaque that arrived from China, was unveiled. It will be mounted in the front hallway of the school designating it a 'Confucius Classroom' school.