$50M proposal envisions Broadway Market transformed into international destination
Buffalo's Broadway Fillmore neighborhood has changed in recent decades, from the heart of Polonia to a community of many ethnic groups and religions. That is the core of a consultant proposal: to use those key groups to reinvent an East Side landmark.
If all the levels of government can come up with around $50 million by 2025, what is now the Broadway Market would be transformed -- from name to merchandise to appearance. The giant concrete box would have an array of doors to the outside and lots of glass, activity on all floors and an array of foods reflecting the surrounding community as the new Broadway International Public Market.
Architect Bob Stark said the current building doesn't attract people.
"The current market is not very friendly. It is not inviting," Stark said. "The major premises of the redesign are to open up and make the building more transparent, invite people in. That would be along the streetscape with glass areas, multiple entries and opening the building up vertically."
Planners and consultants said the new design would allow some tenants in the building to operate all hours and seven days a week because of major changes in access.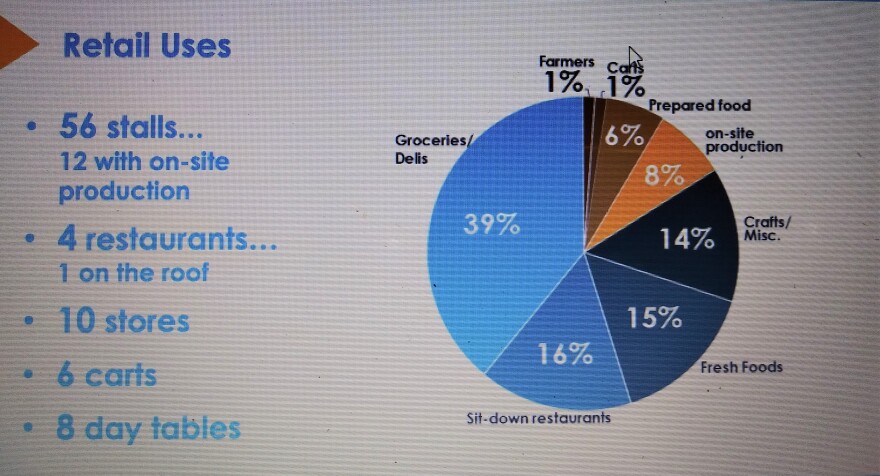 The market is high on the shopping list of the governor's East Side Initiative. Empire State Development has $4 million from the initiative to get the process started, while the other tens of millions are sought.
"That would be the biggest single investment that's happened at the market, probably in several decades," said ESD Vice President of Planning and Policy Paul Tronolone, "but it's not enough to really do the kind of transformation we're talking about. However, we see the opportunity of using that to leverage other partners to take part in this. This might be an Erie County or a sister state agencies at New York State Ag and Markets."
Consultant and Public Market Development Founding Principal Aaron Zaretsky said it would be a destination.
"So that its customer base is the entire metro region, including Niagara Falls and people who visit Niagara Falls," Zaretsky said. "There's about 16 million visitors, about 8 million going to Niagara Falls, annually. The Broadway Market, once it's transformed, can become the second place to visit."
He said the ultimate transformation of the building and some surrounding space is expected to bring in $19 million in shopping annually from locals and tourists by 2025.