State Liquor Authority exploring changes to help brewers, distillers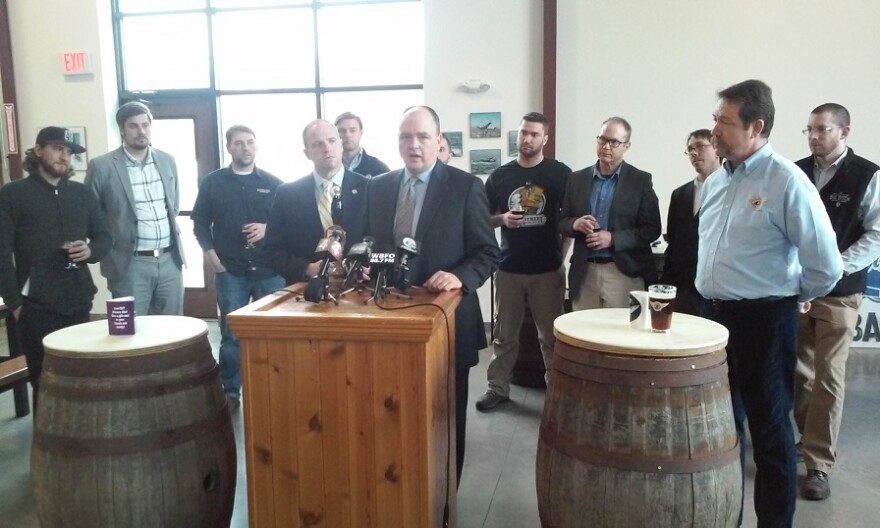 Representatives of the Buffalo area's craft breweries and distilleries had a chance Thursday to discuss concerns about the industry face-to-face with the head of the New York State Liquor Authority.
SLA Chairman Vincent Bradley sat with local brewers and distillers in a roundtable discussion arranged by State Senator Tim Kennedy, who is encouraging reforms to current state liquor law to let those producers grow their business.
Bradley, for his part, was recently tapped by Governor Andrew Cuomo to lead an industry working group to explore possible changes.
"The way that we can make this industry grow, and to help its continued growth, is be meeting with the industry members," said Bradley. "I'm doing that at the direction of the governor, who has told me to get out there and do these roundtables, and meet with people to see how we can make their operations run better so that government is not a hinderance but a help to them."
Bradley, who studied law at the University at Buffalo and lived in the region for several years, noted the sense of camaraderie among smaller brewers and distillers. The brewers, in turn, noted the improvement in communication with policy makers.
"In the olden days, when Flying Bison opened 15 years ago, there was a very 'us and them' kind of relationship - or lack of relationship - with the government, particularly with the State Liquor Authority," said Tim Herzog, president of Flying Bison Brewery, which hosted the roundtable. "Something I thought I'd never see in my lifetime is the chairman coming in and sitting down and having a discussion."
The roundtable discussion, which took place prior to Thursday's news conference, was closed to media.