Emergency alerts come to Canadian mobile phones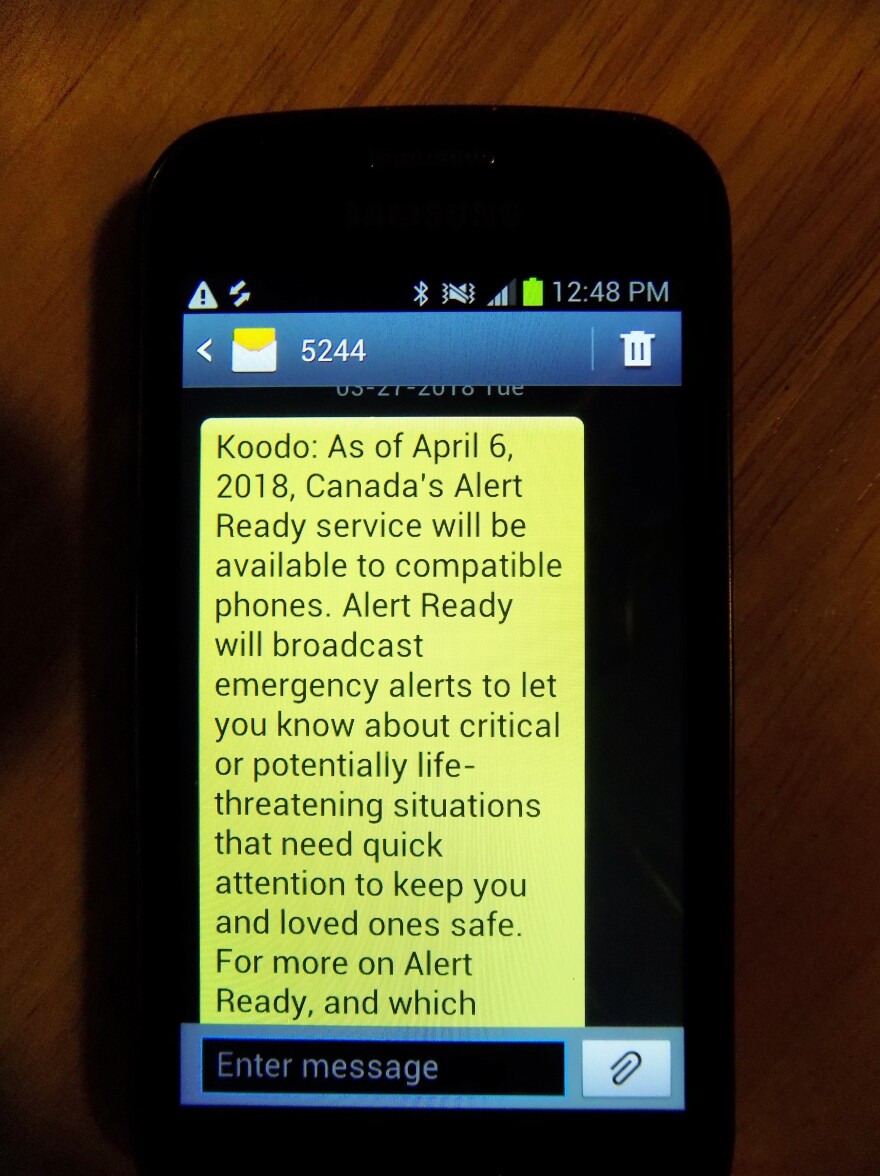 Canadians are being told, "Your phone has the power to save a life."
Canadians with most late-model mobile phones are now able to receive messages about impending natural disasters and civil emergencies through the Alert Ready system. The project is an effort of the federal government, provincial emergency management agencies and Pelmorex, the company that operates the notification system and also owns The Weather Network, Canada's cable and satellite weather channel.
All kinds of emergencies
There are seven different categories of emergencies for which alerts can be issued:
Fire is a category on its own and includes urban, industrial, forest and wildfires.
Natural disasters are another category and cover things like tornadoes and hurricanes.
The biological category covers leaks of dangerous chemicals, bacteria, radiation and contaminated drinking water.
Poor air quality or unspecified falling objects are considered environmental alerts and the terrorist threat category is self-explanatory.
The civil emergency category covers dangerous wild animals, Amber Alerts for abducted children and whether regular 911 telephone service has been disrupted.
The categories cover a broad range of potential emergencies for a big country. Some are unique to particular regions.
For example, tornadoes generally happen only on the western prairies or in southern Ontario. Hurricanes usually hit the Atlantic provinces. Radiation hazards are also unique to Ontario, because it is the only province with nuclear power stations and it is where most of Canada's nuclear research and uranium processing facilities are located.
Other alerts could apply anywhere in Canada. Black bears and rabid foxes show up in towns, industries ranging from oil refineries to plastics production are across the country, and every summer, forest fires burn in every province.
How it works
A similar system to Alert Ready exists in the United States --Wireless Emergency Alert (WEA) --and operates between federal, state and local authorities. Like in the states, Alert Ready in Canada operates in conjunction with alerts that are issued over radio and television.
It brings back memories of Cold War-era Emergency Broadcasting System tests I remember seeing in Buffalo when I was a kid. The warning tone used for Alert Ready in Canada sounds almost identical.
Floods, like the one that affected Gatineau, Quebec in May 2017, are the kind of emergencies Canadians could receive alerts about on their mobile phones.
A four-step formula was developed for how Alert Ready notices are to be issued in Canada. The decision to issue an emergency warning rests with appropriate government authorities.
For example, Environment Canada issues weather warnings, provincial governments issue forest fire warnings and municipal governments could issue warnings about problems with drinking water. Government agencies get to choose the wording of the warnings and geographic areas affected.
From there, the notice goes to the Pelmorex-operated National Alert Aggregation and Dissemination System. NAAD sends the alerts to television and radio stations and, with the newly expanded system, mobile phone companies.
Anything created and operated by humans is never without error -- and that includes emergency warning systems.
Back in January, this was chillingly apparent when a false warning of an imminent ballistic missile attack was broadcast and sent to mobile phones across the state of Hawaii. That situation led to a lot of confusion at the state level. Citizens and tourists were thinking the end was near until the authorities managed to get out a message saying the warning was a mistake.
Public Safety Canada is the federal department responsible for emergency preparedness. Spokesperson Andrew Gowing said that if a government authority issues a false warning by mistake, it can change or cancel the content. That ability allows authorities to correct mistakes, which is what ended up happening in Hawaii. However, it probably would not do much to temper emotions if people thought extreme danger was approaching.
Not all mobile phones can receive Alert Ready messages. Only LTE smartphones or improvements on that technology will work. Anyone using a flip phone will have to still look out the window to see if a tornado is approaching.
The entire Alert Ready system will also be periodically tested to make sure its working properly. The next tests in Ontario and Quebec are on May 7.
However, waiting for a warning alert is not the best way to be ready for an emergency. Being prepared with the right supplies at home, in the car or at work is what Public Safety Canada suggests Canadians do.