Pringles chips in: WNY retirees clown around, keep profession active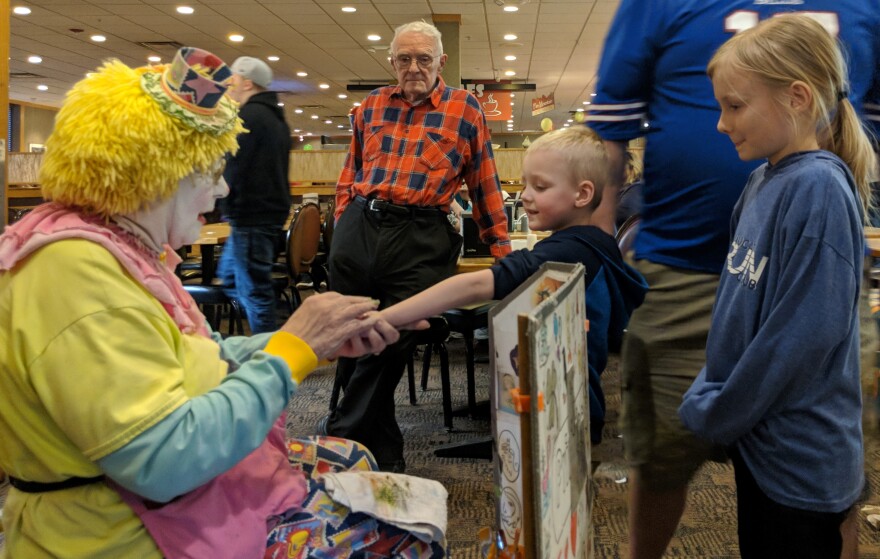 Fewer kids in the United States are clowning around, and that leaves a lot of the work of child's play to older adults in Buffalo and beyond.
Of the 21 clowns depicted on their website, the Buffalo Clown Alley features only 2 that clearly are not older adults. At 88 years old, Lorraine Bauer is far more typical.
"I just enjoy it! It's my way of entertaining myself and other people!" says Bauer, who performs often as Pringles the Clown.
The average age of a clown in the United States today is over 70. By contrast in Asia, the average age of a clown is approximately 35 years, and in recent years it is being seen as a respectable career path for youth in India.
But some of those talented seniors who wear the greasepaint in the U.S. say that depictions of scary clowns like Stephen King's "It" and others in movies and American popular culture have made clown recruitment more difficult here, perhaps even more so among the younger set.
"Hollywood doesn't help the clowns. There are way too many scary clown movies and that's hard to overcome," says retiree Dennis Gesel, a Buffalo-area Shrine clown and juggler who believes low pay, the demise of the circus big top and fewer jobs skews clowning toward the retired or elderly.
"When I was a kid I used to do magic, I used to do balloon animals. I took a 40-year break and now I'm Mr. Fixit the clown," he says.
Bauer understands the joy a clown can bring and helped mentor Gesel as he got into the field.
On any given Thursday night, Bauer will don white makeup, colorful glasses and a mop-like wig of golden yarn she created herself to entertain at the Old Country Buffet on Transit Road in Clarence. When she appears as Pringles, a line of children magnetically appears to get temporary tattoos and face painting.
"My name is Cecelia. I'm eight and I want the fancy eyes," says one young child.
"You said you want pink, blue and purple?" Pringles asks the girl.
"Yes. It look very nice," says Cecelia.
Then when it is done:
"Do you feel fancy with the fancy eye?" WBFO asks.
"Yeah, yeah," Cecelia says.
"They're the ones I'm trying to please, not myself," Pringles says.
Her husband and roadie, 89-year-old Jimmy keeps the kids -- and the paints -- in line.
"Oh, it's very busy. She enjoys it and it's a steady line, for three hours," Jimmy says.
He explained there is a story behind Pringles' smile and compassion.
"Our daughter was sick with cancer, she died when she was 34 with 5 kids," Jimmy says. "And, of course, someone had to watch the kids...and her husband got remarried and (Lorraine) felt lost. So she joined the clowns."
Almost 30 years ago, in an effort to entertain her own 5 children and those of her sick daughter, she picked the name Pringles out of a hat. Today, Pringles also spends time at Roswell Park Comprehensive Cancer Center spreading cheer to sick kids there.
"They greet you with open arms and when you leave, you hear something like 'you just made my day!' ... I am blessed and I feel it," she says.
Gesel, in his role as Mr. Fixit, shares a similar story of reward: how once upon a time a chance encounter brought a spot of brightness to both child and clown.
"When I first became a clown, one day I saw a little girl with two black eyes. I don't know what her homelife was like, but she hung out with me and she was happy for that day... and it was real satisfying," Gesel says.
According to the largest U.S. trade group for clowns, the World Clown Association, membership has slightly increased this year after a steady 10-year membership dive. In mid-April of next year, the Niagara Clown Alley will host Clowns of America International's annual convention in Niagara Falls.
"It's a dying profession. They are trying to bring it back now," Gesel says.