Art meets jazz at Expo68
Within the Eastern Hills Mall in Williamsville, an art and design center aims to unite creative professionals from across the region. Expo68's current series, 'Spontaneous Combustion: Art Meets Jazz', features live performances in collaboration with JazzBuffalo every Thursday night through the end of the month.
Whether its dance, spoken word, or music, Expo68 looks to immerse their audience in not just what they see, but hear. Expo 68's founder Tim Brooks has wanted to do something with jazz for a while now.
"You go to a jazz concert, and every person on stage is somebody who is an amazing artist in their own right," said Brooks, "but then together they're constantly working and feeding off each other and they're doing so much improv off each other that they are creating something completely new. When it really works well, it's like man, it's like a big combustion of energy that just happens. That perfect moment of just… wow. It's like amazing that you've got this energy that the audience can't help but be a part of."
So he connected with 11 local artists who produced pieces with the genre in mind. The title of the exhibit, Spontaneous Combustion, is inspired by Cannonball Adderley's 1955 debut album.
"When you get artists collaborating it's the same idea. The spontaneous combustion, which is why I came up with the name of the title," said Brooks. "It's the ultimate collaboration. I think about the arts, I think about jazz, the thing about it is, is it breaks down all barriers. It doesn't matter how old you are. It doesn't matter what your background is from. It's something we all have in common. I can talk with an artist and in five minutes, I feel like I have so much in common with them. That's so much of what the jazz community is like, that's what the art community is like, so why not do a show that's based on this?"
Brooks does digital work. The piece he's done is called 'Crash'. It alters the canoe work sculpture outside the Albright-Knox on Elmwood.
There's also paintings, watercolors, sketches, photography— all from a diverse group of artists across the region, including Western New York Urban Arts Collective President John Baker, who as a kid was drumming before he painted.
"I just had to make up my mind whether I wanted to be a starving musicians or a starving artist," laughed Baker.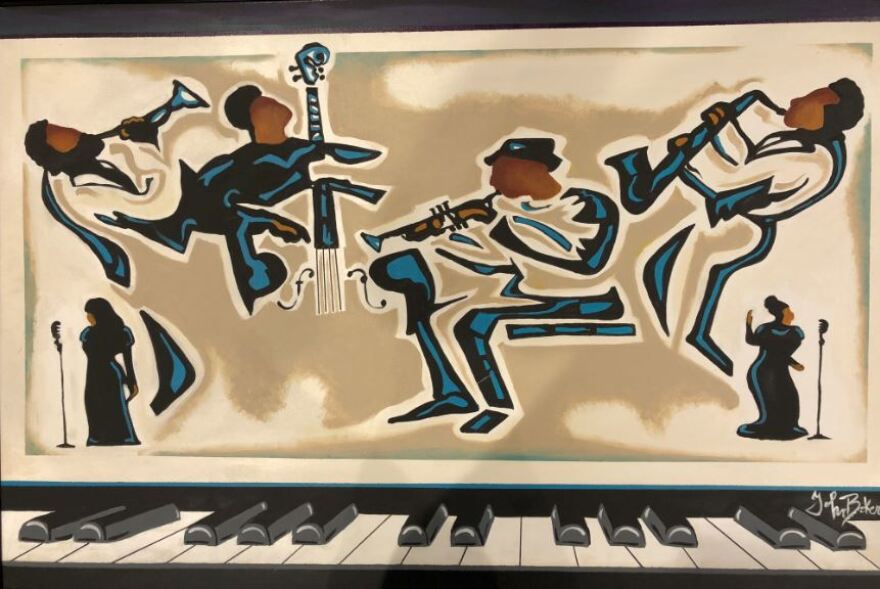 He often listens to artists like Rachelle Ferrell while working. It's all part of the creative process.
"Most of us, when we are painting, working, we're normally isolated alone to our self in our studio or wherever we work at. One of the main comfort zones we have is music," Baker said.
"The good thing about jazz is, especially smooth jazz, is it's continuous. It's that consistency that you get while you're working. You are not going up and down with the beats and everything else. It's just something that's soothing while you are working."
For Brooks, it's stuff like Miles Davis' 1986 album Tutu that gets him going.
"I kind of get carried away by the music," he said. "The music helps me stay hyper-focused. It keeps a mood so I can actually focus on what I'm actually trying to create with the piece. What I'm trying to say with the piece."
"I can put out the world around me. I can put out all the problems of the day because the music really keeps me focused on really what I'm feeling at the moment, which moves into the art."
Baker, who grew up in this community, has felt for the longest time artists of color have been under-served. This exhibit offers a chance for some artists of color to expand their reach outside of downtown Buffalo.
"You can be the best artists in the world, but if nobody sees your work, what does it really mean?" Baker said.
Jay Hawkins is co-founder of the Dopeness Project and a hip-hop artist, with works on display. He had to learn more about jazz before taking part. He did so by listening to Nina Simone.
"I love her quotes. I love what she stood for," said Hawkins. "It's ironic, when I did start listening to Nina's music, how much I had recognized from hip-hop samples, people sampling her music and things like that. And just being at the forefront of the culture."
Hawkins says he always wants his work to make a statement, empower, and educate. He can do that through jazz.
"It's that transfer of energy that Tim was speaking of. That jazz is. That this whole world is ran off vibrations and energy. To put it in to art and to get it back just shows us how we marry the world around us," he said.
A year after leaving a corporate design company, Brooks eventually found his way back to Buffalo.
"What I really missed was collaborating with other designers and collaborating with other creative people and that's what I've found. Especially in the last two years, I found the creative community in Buffalo to be open and receptive," he said.
Brooks found Hawkins through a collaborative process called the Awesome Foundation. The Dopeness Project was pitching for it one night.
"I was so inspired by the Dopeness Project, their mission, what they were accomplishing… that's something that without collaboration, how would that ever influence my work? It's really helped influence my work to think about what other points of views are. What other ways people are thinking about things," Brooks said.
"We can all be better artists," Hawkins said. "Maybe you can learn something from me and I can learn something from you and we can be better artists to better communicate our lessons to the world."
Brooks said he feels just as welcome as a minority artist working with the WNY Urban Arts Collective. It's not exclusive.
"It's like all the barriers go away, because we are just artists. We are just people. What we do, even if it's not our style or what we like," Baker said. "We still appreciate what it took for someone to create something that it takes away all of that barrier. I opened up the gallery in the Eastern Hills Mall mainly because it's not just about getting representation in the city. It's about getting a voice out everywhere. The problem in the arts is that it's only been a few voices. It's been very European focused. That's made us very myopic. Whereas, behind the scenes there has been this rich cultural art that's coming from a different point of view, from a different experience, from a different way of looking at life and it just enriches our society by being inclusive."
That's the reason you will find works from 11 different artists at Expo68 currently. Brooks and everyone else involved wants each artistic niche group in the area talking to each other. Listening to each other. Meeting each other.
"The truth is, people in the suburbs come to the city. People in the city go to the suburbs. We are not that big of a community that we don't know about each other. That we do not go out to each other's locations. I do think it can be the thing-- that conduit that spreads," Brooks said.
Brooks, who is currently 50, added millennials are more collaborative in spirit when it comes to art.
"I think it's actually a great thing for art. I think it's a great thing for music. I think it's a great thing just for society that we will get past more of our issues because we are starting to collaborate more," he said.
'Spontaneous Combustion: Art meets Jazz' runs through November 1 in the Eastern Hills Mall.