Lights, camera, action: A movie theater is back in downtown Buffalo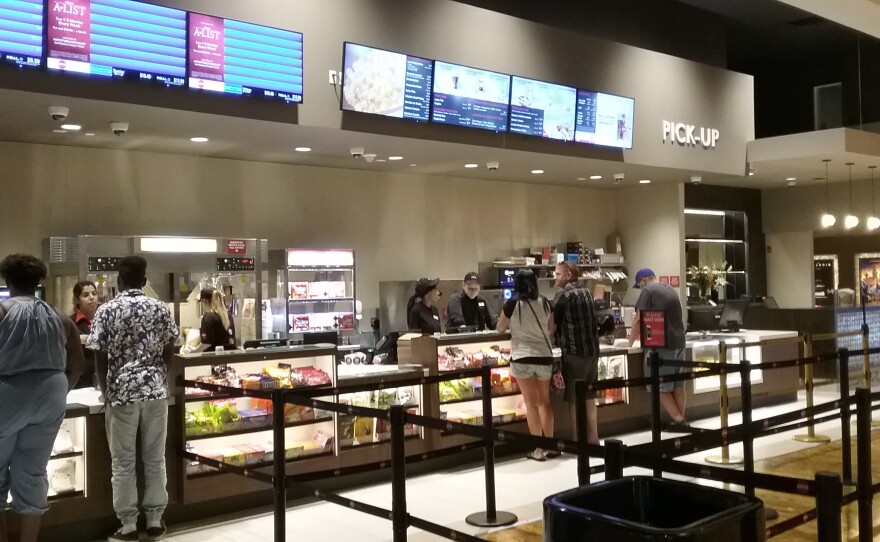 It took only minutes Thursday for downtown Buffalo's brand new Market Arcade Cinema to have that eternal sign of a movie theater: the odor and sound of fresh popcorn, as customers arrived for the first day of shows.
It has taken around $9 million from the Benchmark Group and AMC Theaters to revive the building on Main Street closed in 2014.
The facility originally opened in 1987, operated by General Cinema in a time when it was a very bright light in a struggling downtown. However, General Cinema pulled out and two different groups tried to run the place before the costs of digital projection shut it down.
Now, Bijou Grill owner Bea Militello can look out the window of her restaurant and see customers going to the movies.
"We're in dire need of a movie theater in downtown Buffalo. Every downtown area has one," Militello said. "I'm happy to see our new neighbors because I miss our old neighbors. It brings people in for dinner. It just adds to the excitement of the Theater District and we're very happy and welcoming to them and glad they're back."
While shows at Shea's Performing Arts Center, like the current "Aladdin," bring customers into restaurants, Militello and others say there is nothing like movie theaters, with customers leaving the film every day and saying, "Let's stop for a beer."
It brings excitement to Jodie Mancuso. She is the manager of the Oxbow and GBGB. Mancuso said it should bring steady business.
"We're very excited about the potential new clientele that we'll get in," Mancuso said. "We'll have a rotation of every two years, about, and bring different people downtown for the appeal. Any attraction we can bring to downtown Buffalo and we show people how much work we have done in the past five years to bring us back to a much better prosperous place and big city thinking is very important to us here at Expo."

Chris was one of the first customers bellying up to the popcorn stand in the brightly renovated lobby.
"I find myself downtown pretty often, so I might come down here," he said. "I might not have anything to do with the time, go ahead and go see a movie, you know."
Chris was waiting for the 5 p.m. showing of Denzel Washington in "The Equalizer 2."
In line for the latest "Mission Impossible: Fallout," Craig said he lives nearby and likes the doors again being open at the Market Arcade.
"It's important. It's very convenient. I'm happy that we have one downtown, right now," he said.
Buffalo Mayor Byron Brown said it was a struggle and took a lot of time and effort, but it's good for the downtown community.
"This is something that my administration worked with the Council on for a four-year period of time," Brown said. "There were some that said it couldn't be done and we're very proud today that movies have returned to downtown Buffalo and AMC is the largest movie theater chain in the world and they are a great partner to bring this movie theater into the downtown community."
Common Council President Darius Pridgen agreed the AMC is part of a larger picture.
"This affects not only the movie theater in this area but, of course, it affects the restaurant community and the business community that is down here, because most people don't just go to movies. They go to dinner or they grab a bite to eat or they stop at one of the watering holes," Pridgen said, "and so, that's where I think the benefit of this is."