Walking the red carpet at the 27th annual Artie Awards
It was a brand new red carpet when WNED|WBFO became the new presenter of the Artie Awards for 2016-2017. Ok, the carpet wasn't actually new but the interviewers were. Marc Sacco, Dudney Joseph and I had the honor of taking over the reins this year from Jimmy Janowski, without whom there would have never been a red carpet at the Artie awards in the first place. In fact, we had the privilege of giving out the first-ever "Golden Hanger Jimmy Award" for Outstanding Statement Ensemble of the evening, which went to Sarah Blewett.The evening started as the well-dressed folks of the theater community walked the red carpet with anticipation and excitement. This night, although it is about giving to an important charity, is also about honoring the work of our local actors, directors, choreographers, and designers. We celebrate each other, and the vibe throughout the night is one of encouragement, love, and acceptance. It's not only for the art that we create, but also for one another as we recognize that we all belong to what we like to call our "theater family." How lucky we all are to belong to this amazing community, and to be able to put on our finest and be together in one room on Artie night.
Vibrant colors, impeccable couture, pristinely quaffed hair, and beautiful accessories… and the women looked good too! Not to be outdone by the ladies, the men brought their fashion A-game this year with vibrantly colored suits and tuxedos, feather bow ties, and hats to accent their looks. Willing participants this year, the men were ready to pose for best dressed photos. It didn't hurt that the red carpet hosts were also offering free candy and complimentary libation to entice them to partake.
The real stars of the evening, of course, are the ladies who always put such time and effort to walk the red carpet. We saw many trends throughout the evening: jumpsuits, lace, gold-themed gowns. With an abundance of pants and jumpsuits on the women, it was clear to see that we are in a new era. The ladies are making a statement and standing strong!
Pictured below: 2017 Artie Awards "Best Dressed" Judges Marc Sacco, Nicole Marrale Cimato and Dudney Joseph.
Showcased below are:
Top Ten Best Dressed Ladies
Best Dressed Men
"Best Dressed" Picks by Dudney Joseph, Nicole Marrale Cimato and Marc Sacco
Special thanks to Eileen Elibol of WNED|WBFO who shot these superb photos.
__________________________________________________________
The top ten best dressed ladies (in alphabetical order):
Cecelia Barron
This sophisticated lady strutted her stuff in a blush midriff bearing front knot jumpsuit. You'd have to see this look in person to get the full effect.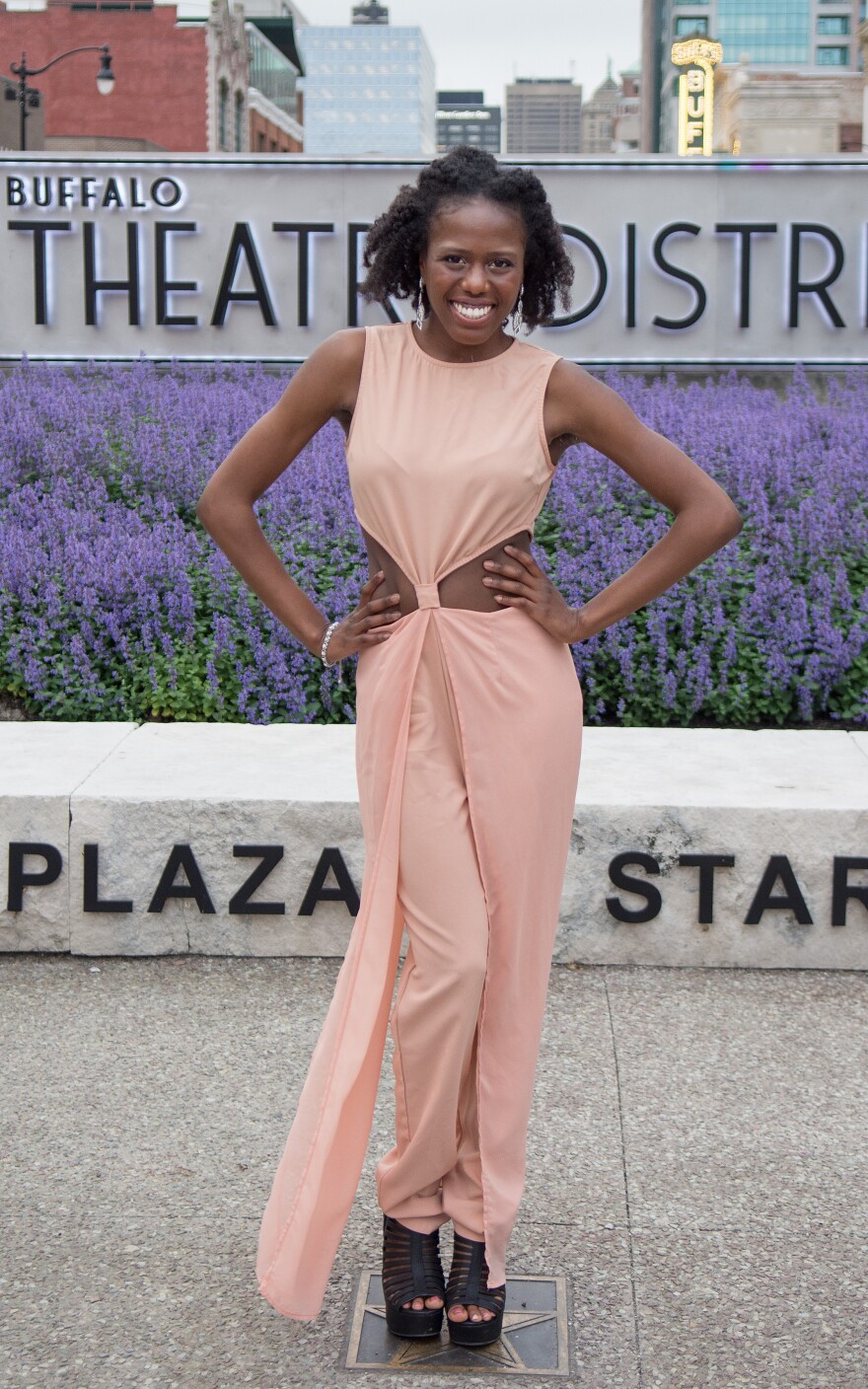 Sarah Blewett
Our Jimmy award winner this year for "standout ensemble" wore an adorable white tea length dress with black accents. This beauty kept it fun and flirty, wearing a white fascinator, giving us a nod to the 1950s.
Arianne Davidow
Arianne embodied a fresh youthful elegance, wearing this sky blue BCBG Max Azria gown. Side cut outs teasingly showing just enough skin, while the paneled ruffles added a soft and feminine feel.
Lissette DeJesus
Flawless from head to toe, this knockout stopped traffic while standing out on the red carpet. Enough said!
Diane Di Bernardo
This form fitting mermaid gown hugged Diane in all the right places. A profusion of navy and pink flowers above the bust was structured yet sultry at the same time.
Maria Droz
We expect nothing less than over the top originality from this little redhead. She gives exactly that on and off the stage. Created and made by her fiancé Adam Kreutinger, this dress may not have been made of meat, but we still can't help feeling that it has a Lady Gaga feel.
Mary McMahon Jakiel
Mary shows us that looking good and dressing well is not just for ingénues. Her black ensemble is fresh and sexy with a see-through lace bodice and pants, finished off with a black leather belt that shows off her waistline.
Amy Jakiel
This gold sequined gown was stunning on Amy who was one of our funny and talented hosts for the evening. Statuesque like a golden trophy, she brought old Hollywood back to Buffalo.
Courtney Turner (this photo by Christopher Hyzy, WNED|WBFO)
This sea foam colored dress embellished with rhinestones and gold stitching was a standout on the red carpet this year. In addition to her stellar turn in Harold Pinter's The Collection at Torn Space, Courtney is sure to be one to watch out for on the red carpet in years to come.
Jessica Wegrzyn
Jess modernized this vintage mid-century golden gown with a pair of hot pink heels to add a splash of color.
The best dressed men of the evening (in alphabetical order)
Jacob Albarella
Anthony Alcocer
Alejandro Gomez
Jimmy Janowski
Chris Kelly
Tom Makar
Ben Michael Moran
A. Peter Snodgrass
Nicole Cimato's "Best Dressed"
Lissette DeJesus
Chris Kelly
Marc Sacco's "Best Dressed"
Sarah Blewett
Anthony Alcocer
Dudney Joseph's "Best Dressed"
Amy Jakiel
Alejandro Gomez
All photos taken by Eileen Elibol, WNED | WBFO.